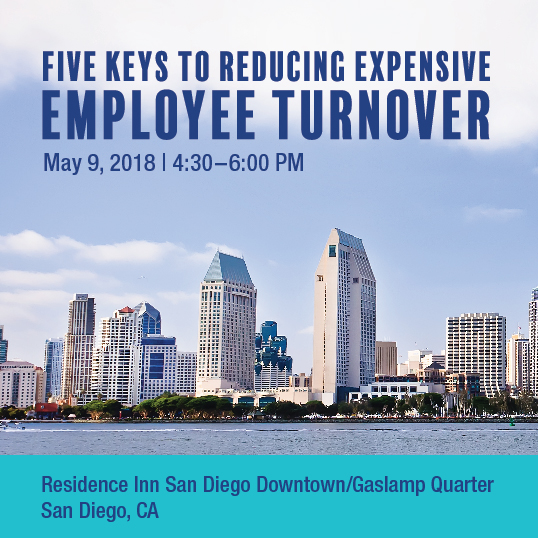 Perhaps the most prevalent frustration and concern I have heard from leaders and organizations recently centers around the frustration, costs, and yes, pain of employee turnover.
The costs are high in time, stress, and a sense of loss (depending on who is leaving). And that doesn't count the biggest costs in dollars spent and productivity lost.
Employee turnover is more frustrating and costly than it has ever been.
But it doesn't have to be this way.
I've been coaching, training, and working with leaders for years, and never has this topic been as top-of-mind as it is right now. In a full employment environment, there are opportunities for your folks to move to, and it is harder than ever to replace those people.
That's why, when I am in San Diego next month, I am hosting a 90-minute live and intimate session to explore the costs and causes, but more importantly, the solutions to this pressing problem.
Specifically, you will learn:
The cost factors that make employee turnover so expensive
The five major causes of employee turnover
Ways to address and reduce each of the five causes
The best first steps to reduce turnover and retain valuable and productive team members
Why San Diego?
I and part of my team will be in San Diego to exhibit at the Association for Talent Development International Convention (I'll be speaking twice there, too), and the following two days, I am teaching our brand-new Coaching with Confidence Workshop. This gave me a window of opportunity to share my latest research and perspective on this vexing problem.
This is live session for any leader in your organization who is struggling with this challenge. Invite others to join you, and use this as the jumping off point for finding solutions to this nagging challenge in your organization. You will leave with a clearer picture of the problem, some fresh perspectives, and some actions steps to take to reduce or eliminate this problem in your organization.
What if I am Not in San Diego?
As important as the employee turnover problem is (and as valuable as the solutions I will share are), I know you won't likely fly in for this 90-minute session. If that is what you are thinking, come for this session May 9 from 4:30-6 pm, then stay for the Coaching with Confidence Workshop the next two days.
If neither of those options work for you, I will be repeating the lesson from the San Diego session on a webinar on May 24 (you can sign up for that here. )
The Details
If you are in the San Diego area or will be there for ATD, this special session will be held on Wednesday May 9, 4:30-6 pm (and I will be available for further conversation following the session) at the Residence Inn San Diego Downtown/Gaslamp Quarter • 356 6th Ave, San Diego, CA, 92101. You can register and get all the details here.
This investment of your time and thought (but no money) could change the trajectory of your business. Your ownership will thank you, your team will thank you, and you will thank yourself!