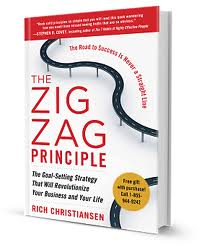 Today's Resource Recommendation is The Zigzag Principle: The Goal Setting Strategy that will Revolutionize Your Business and Your Life by Rich Christiansen.
I've read lots of books on goal setting and achievement, both those with a personal focus and a business or organizational focus. This book, by its title, purports it will help you both personally and professionally. At some levels it does, and I see it more valuable on the business side.
The big idea of this book is that we don't move directly towards goals, in a straight line, and that if we do try to do this we are likely to run out of steam or resources or for some other reason, never reach the goal. Rather, goal achievement is more like climbing a mountain, zigzagging in directions that might not immediately make sense, but ultimately move us more effectively towards the end goal.
The first section of the book focuses on the resources you bring to the table (a refreshing look at resources beyond financial ones), the mission you are after and your values. The Values exercise included is excellent and could be of great value to anyone.
While the first part is important and truly foundational, the next major section is the meat of the book. It focuses on the key pieces of the zigzag from a business perspective.
The Drive to Profitability
Adding Resources and Processes
Adding Scale
These sections are clear, easy to read and provide solid, if sometimes counter-intuitive advice.
The last chapters tie the book together in an effective way.
If one of your goals from reading a book is to get one, clear practical good idea, I believe this book will give it to you. It is focused on the principle proclaimed by the title (and described above). It covers this idea very well, and lays a great foundation at the start. It is an easy read, and the ideas you will find will be easy to find – this book won't cause you to work too hard for the insights.
If you are starting, thinking about starting, or struggling in building your business, this practical, actionable book will help.