By Uri Gneezy and John List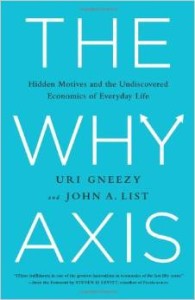 This is an interesting book on many levels.
I bought the book, because as a leader and teacher and writer about leadership, I also want to know more about people's motives so I can better understand how to coach, lead and influence them.
This book delivers on that goal, though not in a direct "here's how to do it as a leader" sort of way.
The book is written by two very smart and very engaging (at least on paper!) economists. Yes, economists. While the book is listed in the applied psychology category in Amazon, as you read you quickly find these aren't the kind of people and they aren't doing the kind of work you might think of economists doing. This book describes the real world research that they do to understand how that really incentivizes our behavior as human beings.
The book is written in a Freakonomics sort of way, using storytelling to effectively illuminate both their research and their findings. This approach makes the book interesting, approachable, and at times, downright fun to read.
While you will get much from this book as a leader, you will get more from it as an interested human being. This book tackles big issues like gender differences in pay and competitiveness, discrimination, reducing high school drop out rates (and student achievement), and much more.
Reading this book will give you a bigger and broader perspective of the world and give you new things to think about. For these reasons, I recommend this book highly.