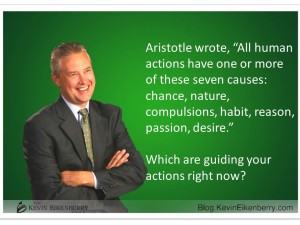 Today's quotation isn't new. Aristotle lived in the days before most all of the technology we take for granted was invented. But what hasn't changed is human nature. Enjoy today's quotation, and be challenged by the questions and actions that follow it.
"All human actions have one or more of these seven causes: chance, nature, compulsions, habit, reason, passion, desire."
– Aristotle 
Questions to Ponder
– What, if anything, would you add to this list of causes?
– Which of these causes guide your behavior the most often?
– Which of these causes diverts you most often from the results you most want?
Action Steps
1. Reflect on the Questions to Ponder as a way to better understand your own behavior.
2. The next time you see a behavior in others that you don't understand, think to the causes as a way to potentially understand their choices better.
My Thoughts
While this quotation can be very illuminating personally (if you allow it to be so), I want to talk briefly about how these ideas can help you in communicating with, coaching, influencing, and even just understanding others. The heart of my suggestion is in the second Action Step above.
There are many times when other people do things that we don't understand or are annoying to us. If we want to build our relationship with them, coach them, or even just not get angry, today's quotation points us in a great direction. When we realize that people's behavior makes sense to them when they do it, it helps us to respond to them more effectively. The next time that happens around you, try to step back to determine what might have caused their behavior. Using today's quotation is a perfect place to start.
This won't guarantee that you will understand them perfectly, and you can't guarantee you come up with the right answer. Rather, your goal is to find possible reasons (including the causes Aristotle identified). When you do this, you become more patient, understanding, and give yourself a chance to find ways to respond or coach them that have a better chance of success.