By Charles Green and Andrea Howe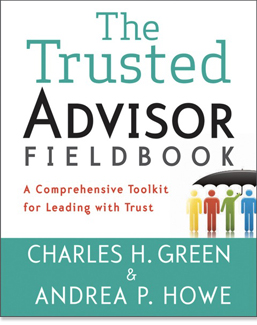 Over the years a number of very popular (and powerful) books in the organizational and professional development areas have had their brands extended by the addition of a "Fieldbook". These fieldbooks take the topics and concepts of the original book (Like The Fifth Discipline  or Flawless Consulting) and add additional tools, exercises and content to make the concepts of the original both more practical and more complete. The concept that creates these types of books makes sense from a publishing perspective, but when they are well done, they add tremendous value for practitioners and learners . . . like us.
Today, I recommend a book in this genre, based on the critically acclaimed (and in my case dog earred) The Trusted Advisor. This book was written predominantly for people working in consulting roles – from financial advisors to management consultants to accountants and much more. While that book, and this accompanying fieldbook, write to that audience, the application is much broader than that.
Since a major focus of both books is understanding trust – how it is created and nurtured, as a leader you will find immediate and substantial application. Actually in much of this volume you will find exercises to help you run an organization built on trust as well as developing your own skills in building trust.
This is a toolkit – easy to read and use. But it isn't designed as a straight-through read. It also isn't a book I would recommend for your e-reader – as there is space and need to interact with the book by writing in it and using it. While called a fieldbook, it is almost a workbook.
Your success as a leader will always be based on the degree to which you are trusted by those you lead and those around you. This book (and the original Trusted Advisor) are important parts of any leader's library.
If you are a leader wanting to build trust, if you are in any sort of internal or external advisory or consulting role, or if you are a trainer or instructional designer, you need a copy of this book. If you don't have the original, go ahead and order them both – you are worth it.