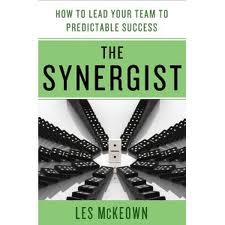 Today's Resource Recommendation is The Synergist: How to Lead Your Team to Predictable Success by Les McKeown.
This book proposes that there are four types of people on teams and in organizations; three of them are more naturally occurring and one, the synergist, brings greater success for all of them.
From this high level perspective, the book isn't much different from other books that describe types of people and how they think, communicate and behave (think books on DISC, Myers Briggs, et.al.) Here are the four types described:
The Visionary.
The Operator.
The Processor.
The first section of the book explains each of these types, their strengths and weaknesses and how, left to their own devices, together they will create gridlock.
Enter The Synergist.
The rest of this easy to read and full-of-examples book outlines the nature and behavior of the synergist and how that role brings out the best and therefore the success in the others. The synergist is discussed as a role that can be learned (though some readers might have a good bit of this behavior in their repertoire already). In fact, the bulk of the remainder of the book is about learning to play this role more effectively.
So, if you know other style-type models, why read this book?
I have three reasons:
Context. The context for this book is organizational success and leadership. All of the examples and content comes from this perspective. If you want to get better in these arenas, you won't have to translate.
Depth. The book isn't academic, and the style types aren't based on research and data. However the book is full of depth of examples and ways to understand the roles and behaviors described.
Connection. If you are familiar with other models or sets of strengths, I think you will find this book complimentary, helping you not only understand the ideas McKeown is sharing, but better understanding the model you already know/use and how to apply it as well.
This is a very readable book written by a wise and experienced business person. This book is worth adding to your reading list.