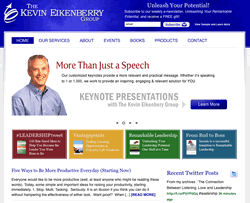 In May of 2004, we launched KevinEikenberry.com as a part of the rebranding of my business from The Discian Group to The Kevin Eikenberry Group. Over the years, this site has served us well; many of you first found me from that site, and it served as an integral part of the marketing of the business.
That was then, this is now.
Then, the site reflected a design that was cutting edge — but that was 8 years ago.
Now it reminds me of the avocado green refrigerator in a modern kitchen; it works but looks out of place.
Yes, we have done some updating of the site over the years, but this re-launch is (way) overdue.
Now, when you go to KevinEikenberry.com, we hope you will see it as the equivalent of a newly remodeled kitchen: well appointed, well designed, and definitely ready to do its job! Like a remodel, it isn't completely finished yet, but it is close enough to use. (We have a few more pieces to finish over the next week or so).
I hope you will take a few minutes to look around our new "kitchen" – the efforts and talents of each member of my team and our close colleagues at Brett Atkin Design (site design and graphics) and Anthony Mejean (graphics) will show through.
When you take a look, I believe you may learn about more who we are and what we do. As just one example, if you are looking for help with speaking, training or consulting, we have Special Reports in each area – just ready for you to claim! (Just look under the Services menu on the horizontal stripe near the top of the page.)