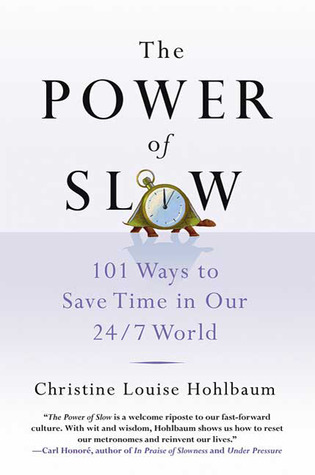 By Christine Louise Hohlbaum
This book was published in 2009 and I'm not sure how or where I got my copy.  But as I prepared to leave for vacation, for a variety of reasons, it found its way into my briefcase.  While I didn't read any of it during my vacation, I am happy that I have since.
I suppose I was drawn at least as much by the subtitle as anything, and when putting the subtitle together with the seemingly paradoxical title I sensed the book would be interesting.
I was right.
The author starts by helping us think about time in new ways, challenging some of our traditional thinking, and, well, trying to slow us down a bit.   While I found this opening section to be valuable, I wanted her to get on with it.  Perhaps that thought itself was part of the learning for me.  In the end, the opening set the stage not only for the author's premise, but makes the suggestions which follow make more sense and give them better context.
After the opening chapter, which deals with our relationship with time, nine other major chapters follow, each with ten more suggestions (a final chapter gives the 101st idea).  Those areas include:
Multitasking
Habit
Saying No
Procrastination
Free Time
Time Outs
Expectation Management
Focus
Delegation
These chapters can be read in any order, and the book, being well written, could be read straight through as well.  You might be tempted to read the book quickly, looking for the key ideas and nuggets, and while you can do that, I think at some level in doing so you miss the author's point about slow.
This book reminded me of some strategies, and gave me some new ones.  It also, more importantly, helped me think about time in some new and productive ways.
I'm glad this book found its way to the top of my reading stack.  If you are interested in being more productive and are trying to deal with the constant busy-ness of life, you will benefit from putting this book on your stack – and then making time to read it.