Today's Resource Recommendation is The Power of Habit: Why We Do What We Do in Business and in Life by Charles Duhigg.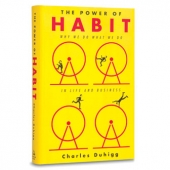 On April 15th I recommended another book on habit and I mentioned that this book was on my Kindle.
It is a powerful book if you want to better understand yourself and human behavior in general.
The book stays very true to its title, so if the title grabs your attention, you can know the book delivers on that big promise. It does so in an interesting, fact-filled, story-driven way.  And unlike too many books that feel like you have really gotten the full essence of the book in the first few chapters, this book delivers throughout.  It opens with a section on the Habits of Individuals, which gives the background and science around habits (and science is advancing rapidly in this area).
The second section, while you wouldn't take it out of context of the first, deals with The Habits of Successful Organizations, and the last section focuses on the Habits of Societies.
If you are a person who is interested in personal growth and improvement, you will find this book fascinating, relevant and useful. In fact, I would consider the ideas it contains truly life changing if put into action.
As a leader interested in building better results for individuals and collectively, the second section is invaluable.  And the final section provides bigger thinking and plenty of food for thought as well.
If I have a problem with this book, it is a backhanded compliment.  I enjoyed reading it so much, that it was a challenge to slow down enough to get the important lessons and ideas that came from it.
I highly recommend this book – it is one I know I will read more than once.