By Alan Zimmerman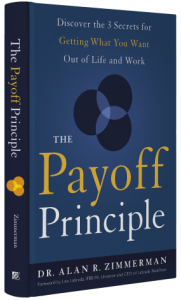 We all want to get more out of some part of our life. It might be personally. It might be professionally. It might be in any part of our life.
In order to make that happen, it would be nice to have a formula, an approach, a plan. And if that plan were general enough to apply in any part of our lives, and specific enough to actually help, that would be great, wouldn't it?
The plan is laid out in Alan Zimmerman's new book. Here is that plan:
Purpose + Passion + Process = Payoff
Before you can apply this formula, you must know what you want your payoff to be – and author starts there with the important question of "what do you really really want?" Once we know where we want to go, the balance of the book dives into the specifics of each part of the formula.
The book also spends time on us (calling us the Producer of the Payoff Principle), and this section sets the stage and forces us to look in the mirror and gauge our readiness to achieve what we really want.
Some of the material won't be new for you, and that isn't a reason to leave this book on the shelf; because even the material you might be aware of, you might not be using(!), and even if you are, it might not have been applied in quite the same way as the author now suggests.
I found the chapters in each section to be helpful and valuable in their own right, but when put together around the formula, it all became even more powerful.
The author is a speaker and like you might expect in a good speech, there are quotations and illustrations throughout the book. Again, while a few might be familiar (they won't all be), even those take a fresh face in this book.
If you want to achieve more in your life, this book can help. If you are looking for reminder and a personal pep talk to help you refocus and move forward, this book can help.
While the book promises a payoff, the truth is that that payoff comes not from reading, but from applying what is written. The good news is that what is written is powerful, practical and accurate.