By Shawn Murphy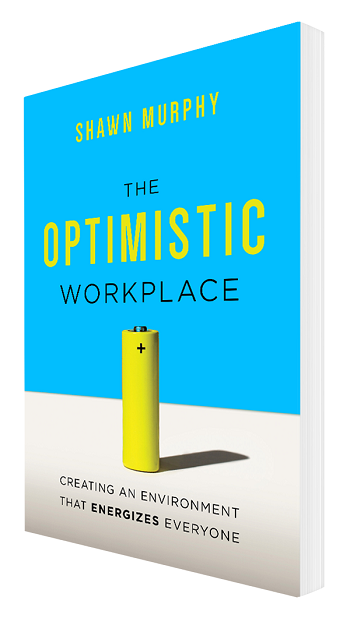 Every once in awhile, I recommend a book here before I finish reading it.
This is one of those books.
Yes, I agree with the premise, and yes, I am far above the midpoint on the optimism/pessimism line.
But that doesn't change the value or message of the book.
And I've read enough to comfortably say this book doesn't just state an opinion, but provides facts and research to back it up. It is a pleasure to read and provides a wealth of examples and case studies too.
Many people and companies are talking about how to engage their workplace, and many leaders I talk to ask me about changing negative people's behavior. But this book hooks those things together. As the subtitle says, we all want a work environment where people feel energized.
The book states a case, debunks the myths, and yes, talks about the dangers of excess in relationship to optimism. Then it lays out a set of steps that any of us can follow to create a more energized, optimistic workplace.
If you want your team to be more engaged, if you want higher levels of retention and productivity, and if you want to attract more of the right people to your organization, you will find great value in this practical book.
If you want to consider the role you play in this optimistic workplace, this book will help you think that through.
I've not finished this brand new book, but I know I will. And I am optimistic, no confident, that it will have a positive impact on our team and our results.