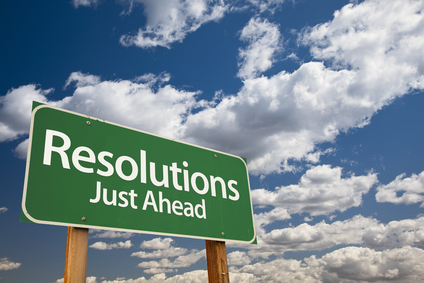 I've written a lot about resolutions over the years (here is a list). I guess I am drawn to the topic this time of year, as are many others.
And as I have chronicled and you will often read over the next few days, people have mixed feelings and mixed results with resolutions. Which puts us as leaders in a difficult situation…
Because we have to decide what we are going to do at the start of the New Year, and we have to recognize that others are having their own internal conversations, which might be quite different person to person.
And even if you don't plan to use the "r" word with your team, any discussion of goals and plans at the start of the year get tainted by peoples' thoughts, beliefs and experiences with resolutions.
So what is my suggested solution?
I'm glad you asked.
The answer is in the dictionary.
According to Merriam-Webster.com here are the first two definitions of resolution:
res•o•lu•tion noun \ˌre-zə-ˈlü-shən\

: the act of finding an answer or solution to a conflict, problem, etc. : the act of resolving something
: an answer or solution to something
And the type of resolution everyone is thinking about this time of year (i.e. The New Year's Resolution) is found near the bottom of the list:
something that is resolved <made a resolution to mend my ways>
While there is nothing wrong with this last definition, the challenge is that resolution isn't results.
And when people make resolutions, what they want is a result, isn't it?
So let's go back to the Dictionary's first definitions. They all relate to finding an answer or a solution, don't they?
And on that definition we can all agree.
So my recommendation to you as a leader is to focus on resolving for solutions – which yield results – not focusing on the resolutions others will focus on during this time of year.
The good news is that this isn't hard – you already know how to do it.
But just to be clear, here are three ways we all as leaders can resolve for greater results now or anytime.
Have a clear goal. Once a goal or the problem itself is clear, it will be far easier and more effective to resolve anything when the purpose of the resolution is important and clear.
Ask more questions. Problems will come to you as a leader. Don't answer first, ask first. Engage the experience, knowledge and ideas of others. You will get resolution, but also increased confidence for the future.
Encourage others to resolve. As a leader it can be seductive to get involved and "help". Often our best way to help is to help get the goal clear and get out of the way.
Here's my thought in brief:
Focus on resolving for solutions – which yield results, not on "New Year's resolutions" Click to tweet this.
Tweet: Focus on resolving for solutions – which yield results, not on "New Years resolutions" – from @KevinEikenberry