By Chris Brogan and Julien Smith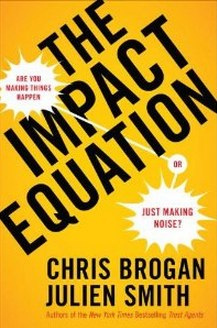 A couple of years ago these two authors wrote a book called Trust Agents: Using the Web to Build Influence, Improve Reputation, and Earn Trust.  It became a best seller and moved the already very popular authors to the stratosphere in social media circles.  I knew Chris before that (we've shared calls, conversations and a meal), and after the book came out I interviewed Julien about trust for our Remarkable Leadership Learning System Members.  Trust me when I tell you these are smart guys.
If you knew nothing about this book other than from what you have just read, you would assume this book is about social media stuff. And if you don't care about Twitter or Facebook, or whatever, you'd assume this book isn't for you.
You'd be wrong.
As a leader and communicator you want to make an impact, right?  You want (and need) your messages to be heard and acted on – you want (and need) to make a difference.
THAT is what this book is about.
The authors are good writers and use great examples (admittedly some may not be as immediately interesting to the non-social media/technology lover, but when you really read what is there you'll find great value).
In the opening chapter they introduce their Impact Equation:
Impact = C x (R+E+A+T+E), where:
C= Contrast
R= Reach
E= Exposure
A= Articulation
T=Trust
E=Echo
And then they use the rest of the book to explain, explore and give you practical uses of these ideas.
If you want to spread your message via social media, you will want to read this book.  More importantly, if you want to make an impact using any (or all) media, you must read this book.
I'm getting a copy for my son for Christmas (don't tell him), and I'll be reading it again before the end of the year.