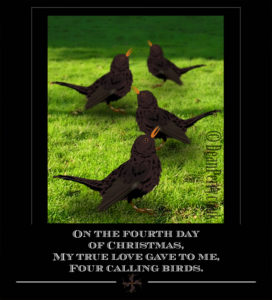 On the fourth day of Christmas, my true love gave to me . . .
Four calling birds?
I don't want to give or receive any birds, but the gift I'm writing about today?
That's definitely a gift worth giving.
If you don't know how a Twelve Days of Christmas reference makes it onto a blog about leadership – it is a part of my 12 (Leadership) Days of Christmas,you can learn all about it and get caught up to speed here.
Here is today's task/gift.  Ask yourself . . .
 – What is my ratio of statements to questions with my team?
 – How often do I ask first?
  – How can I build the habit of asking more and better questions?
The best leaders ask (lots of) questions. It is almost a self-evident point, because questions help us in so many ways.  They help us communicate, solve problems, make decisions, coach others, and far more.
When we ask questions and listen to the answers, we are showing respect and valuing the other person, as well as their opinion.
Without questions, one of the best gifts you can give your team is the gift of open, honest, curious questions. Think in terms of questions and ask more of them – that's today's gift.