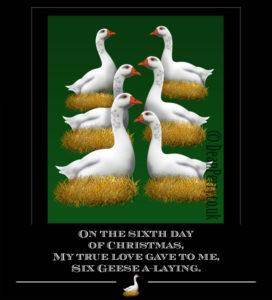 Last week, I began a series of posts/leadership tasks designed to provide gifts to those who complete them (and when completed, they manifest gifts for those they lead). I built this 12 day series on the theme of the 12 Days of Christmas (probably my least favorite Christmas song). You can get the full idea/background and all of the other tasks so far here.
When I thought about "Six Geese a laying," in the context of today's post, I envisioned something like the image to the left. Six geese, sitting on their eggs, patiently doing what they need to do to nurture their eggs. In the end, that isn't completely different from people sitting in a meeting trying to nurture ideas that will help them solve a problem or capitalize on an opportunity.
On to today's task.  Ask yourself . . .
 – How often do I tap the massive creativity of my team?
 – In what areas do we most need creative thoughts and ideas now?
 – How can I nurture and apply my team's creativity more frequently?
 – What could I do right now?
No organization can thrive without creativity, unless of course you can conceive of an organization where there are no problems, challenges, barriers, obstacles, or opportunities.
One of our sacred roles as a leader is to believe in and draw out the often latent creativity of our team members. Ask them for their ideas, encourage them to try things and create an environment where mistakes are seen as the stepping stones of progress.
When you take action on the answers to your questions for today  great things will happen. First, you will get new ideas and a renewed team energy – and solutions to problems.  Second, less obvious, but just as important, you will build the confidence and worth of your team members as they see themselves providing an even more meaningful contribution to the team's success.
And that is a truly great gift to give.