Tom woke up Halloween morning and mentally previewed the day ahead. He didn't have to think much to know it was going to be a long one. A full day of leadership training followed immediately by the costume party his wife was dragging him to. The only good thing about the day that he could think of was that he wouldn't have time in between the training and the party to put on a costume. Since he wasn't a big fan of Halloween or of costume parties, that would be just fine with him.
He smiled as he thought about how he'd slipped this one by his wife.  He said if someone asked, he'd say he was dressed as a businessman on casual Friday. . .
The training went fine — it was like lots of other training he had been to. Anita, the trainer, was earnest and really seemed to care. As a senior manager, he had heard much of the material before, but there was one thing that stuck in his mind. At one point the trainer said that leaders could choose to learn from any situation if they chose to. She encouraged everyone to take a few minutes each morning to reflect on the previous day's activities to look for those lessons.
He told his team (they were all participating in the training) that he wanted them all to try that exercise and come to their staff meeting the following day with their lessons from today. That declaration made the trainer smile. At least someone is really enjoying this day, she thought.
As the training ended, he was more rushed than he even planned; a couple things came up and the Cleveland office needed some help on a decision, and he spent a few minutes with the trainer, then he was off to the party to meet his wife and endure that event.
The Day After
The next morning he woke up and remembered what he had committed himself and his team to. He poured himself a strong-as-the-day-is-long cup of black coffee and sat down to reflect on the leadership lessons from the previous day. He didn't exactly know how to do this "looking for lessons" thing, but he thought it had merit, and he wanted to lead his team by example by giving it more than the college try; he wanted to have something that showed he had really thought about. Besides, he had invited Anita the trainer to come sit in on the meeting.
After a couple of sips of coffee staring at the blank computer screen, he had a flash. Everyone else is going to share lessons from the training, which would be perfectly appropriate but would be pretty "easy."  This wasn't the kind of reflection Anita had meant — she meant to look at your everyday experiences and look at them through the lens of leadership.
He had it! He'd think about what he learned about leadership at the party that was more fun than he expected. Here is what he wrote:
Leadership Lessons from Halloween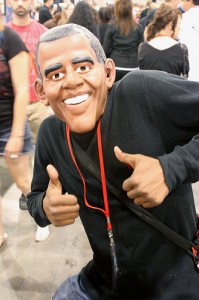 Identity Matters. One of the reasons people like Halloween is that they get to take on a different identity. While that might be fun, as a leader our identity must be consistent and well known. Masks might be fun on that day, but as a leader, I can't wear a mask. To be most effective I must be real, transparent and authentic.
Engagement matters. While costume parties aren't my favorite, they are for many people. Why? Because everyone is engaged! Everyone participates! People didn't even give me too hard of a time for my weak non-costume, because they were spending all their time talking about how much effort they went to in creating theirs. When people are engaged in an activity, the effort isn't their focus. They will do whatever it takes. How can I raise the level of engagement on my team?
Creativity matters. There sure was creativity on display at that event. Even the attorney at my wife's office that she says is always straight-laced and proper had a great (and pretty wild) costume. He was telling me about how he came up with the idea and how jazzed he was by the process. When I give people an outlet and purpose for their creativity, they will be creative. As a leader that is an important part of my job.
Fun matters. One of the reasons Halloween is the most popular adult holiday is that it gives people permission to just have fun. There isn't any other "reason" for the holiday — it is just about fun. As a leader I must remember people need to have fun sometimes to be most productive all of the time.
Before he went to get a second cup of coffee and start his normal daily routine, he read back over his four insights. While driving to work, he realized that the 10 minutes he spent reflecting made his previous day more productive. He was excited to share these lessons with his team, and see what lessons he would capture tomorrow morning.
photo credit kevin dooley