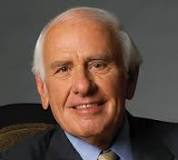 I've quoted the man featured today before. While I never met him,  he was one of my mentors from afar. And this quotation seemed especially appropriate for me personally today. I hope you find it meaningful as well.
"Discipline is the foundation upon which all success is built. Lack of discipline inevitably leads to failure."
– Jim Rohn (1930-2009)
Questions to Ponder
– What role does discipline play in my past successes and failures?
– How disciplined do I think I am?
– What leads me to that belief?
Action Steps
1. Determine one thing you need to be more disciplined about today, and do it.
2.  Spend time thinking about the role discipline plays in your life and determine any next steps based on your observation.
3.  Talk to someone you think is quite disciplined.  Interview them to see what you can learn on your own walk towards greater discipline and success.
My Thoughts
I agree with Jim – discipline is a big deal. Sometimes, and on some issues, I'm pretty good at it. Other times, not so much. I'm guessing you are much the same. What I am trying to learn about personally is that variation and why is it that I am better in some areas than others? I haven't got it completely figured out, but I can tell you that it is reflection worth pursuing.
While I am not a psychologist, I believe that our personal beliefs about how disciplined we are started to form a long time ago – things people said to us, early successes and failure, and more can have a big impact on the label we place on ourselves now. And that label can help us, or get in our way.
My final thought is from a leadership perspective. Your level of personal discipline impacts your success, to be sure. But as a leader, there is also a profound ripple effect. It is hard to inspire or expect levels of discipline from your team highly than you have yourself. This point an additional burden on us, but provides us with a big opportunity as well – as we are more disciplined, so too will our team move in that direction as well.