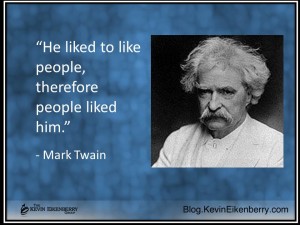 I often joke that if you have a quotation you want to use but don't know who to attribute it to, say it is from Abraham Lincoln, Ben Franklin, or Mark Twain. Why? Because they said smart stuff and people tend to listen to them! Today's quotation really is from Mark Twain – and it is a perfect example of wisdom wrapped up in a few words.
Questions to Ponder
– What are my thoughts about this quotation?
– Do I like to like people?
– Do people like me?
Action Steps
1. If you want to build relationships, follow Twain's advice.
2.  Focus more on liking others and less on being liked.
My Thoughts
I could tell story after story that proves this point – but I don't need to. Because when you stop and think about it, you have stories too. Twain is telling us to be focused on others, and not ourselves. When we focus on finding the likable traits in others, we will like them; and, for a variety of reasons, they will generally reciprocate.
Stated another way, don't set out to make friends, but to be one.
It is likely that you have given similar advice to a friend or to a child starting in a new school or situation. But are you remembering it for yourself?
Find things to like rather than faults. Let people know you like them and enjoy being around them. The fruits of these efforts will be abundant and valuable.