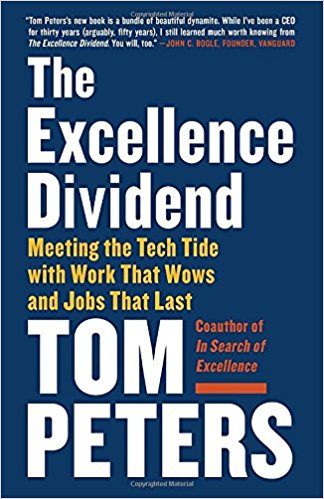 by Tom Peters
In 1982, two consultants at McKinsey & Co. published a book to little fanfare. One year later, a million copies had been sold, "everyone" had heard of In Search of Excellence, and the world of business has never quite been the same.
Now, 36 years later, Peters has published what he calls the sequel or "excellence II." It is vintage Tom Peters. It is important. It is worth reading, thinking about, acting on, and then doing it all again.
Ever since I read In Search of Excellence (mine was likely among that first million copies sold), I've been a fan. I think I have read all of Tom's books, I follow him on Twitter (he is @Tom_Peters), and we have interacted there some, too. I have found his work interesting, inspiring, and often obvious (which doesn't make it at all less important).
The night before I announced I was leaving Chevron to start a company, Tom was at my side as I read A Passion for Excellence (again) late into the night. I read it as confirmation and a manifesto of what I wanted to do and how I wanted to help leaders and organizations. That night, I learned that reading Tom Peters before bed isn't a good plan for me. He gives me too much to think about to sleep.
Apparently, I haven't learned my lesson, as nearly 25 years later, I laid in bed reading this book – with the same results.
Some don't like Tom's style.
There is are short sentences. Lots of bolding and changing font sizes, and more exclamation points per page than in any other book you will read. Whether you like the style or not, you can't miss the passion and down-to-the-core belief that shows through on every page.
I could go on, because, as I said, I'm a fan. I'm a fan of Tom, but more importantly, I am a fan of the ideas in this book.
I could go on and tell you that if you are interested in building a better business or building a better career, you should read this book. If you care about customers, learning, leadership, innovation, or design, you should read this book.
I won't go on. I'll just say that if you yearn for, aspire to, believe in, and care about excellence, read this book.
(Thanks, Tom)