By Peter Drucker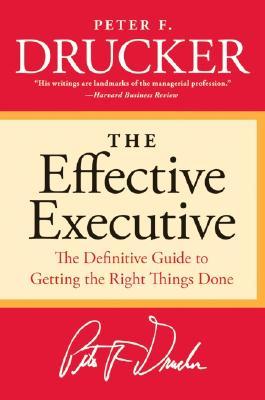 Here are two good clues that a book is worth reading.
It has been copyrighted more than once (this book, 1967, 1985, 1996, 2002, and 2006)
It is written by Peter Drucker.
Put that together with the fact that it is written about a topic we all care about – being more productive – and I should be able to stop my recommendation here.
As time goes on I talk to fewer people who have actually read Drucker. If you are one of those people and you care about leadership, this is as good a book to fix that mistake with as any.
The book, while first written in 1967, is incredibly relevant. And even though the examples aren't new, it is really nice to read examples that aren't about Apple, Google, or other organizations regularly written about today. Since I really shouldn't need to say any more to convince you to read this book, I will just share two passages I highlighted this week. Perhaps they will finish convincing you that this book needs to be part of your summer reading.
"But this book itself is not a book on what people at the top do or should do. It is addressed to everyone who, as a knowledge worker, is responsible for actions and decisions which are meant to contribute to the performance capacity of his organization. It is meant for every one of the men I call "executives."
"To be effective, every knowledge worker, and especially every executive, therefore needs to be able to dispose of time in fairly large chunks. To have drips and drabs of time at his disposal will not be sufficient even if the total is an impressive number of hours."
This book is a classic, and when you apply the ideas, will make you more effective.