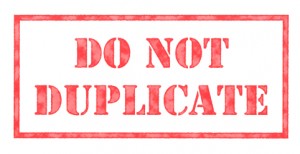 Maybe you wouldn't state it this way, but chances are, if you are reading this, you want to become great at something.  Maybe you'd use different words.  Maybe "being great" doesn't resonate with you.
It doesn't matter what words you put to it; if you want to become more effective and move closer to your potential, you need to read on. This short quotation from Samuel Johnson, tells you what not to do.
"No one ever became great by imitation."
– Samuel Johnson, author and much more
Questions to Ponder
Whom have I imitated in the past?
How has that helped me (or not)?
Whom am I imitating now?
Action Steps
Consider an area of your life you want to improve.
Look for role models to learn from in that area.
And, then learn from them, rather than imitating them.
My Thoughts
Many years ago, I was training a group of professionals, delivering some particular training inside their company.  As part of the process, each of them was delivering part of the training back to the group for practice and feedback.  A third-party was observing this practice, and made a comment to me that I am sure was meant as a compliment.
She said, "It's like watching a bunch of mini-Kevins."
That wasn't my intention at all – and, to the degree it was true, I had failed.
I wanted them to learn from me, and hopefully they had learned valuable things, yet I wanted them to bring themselves to the work, not "try to be like Kevin."
Pick any area of your life.  There are people you can look up to and learn from – and you should.  Learning from a role model is a fabulous way to shorten your learning curve and avoid mistakes they may have made.
This is quite different from trying to become like them.
Think about it this way. Whomever you are trying to imitate is still human. It's possible you will be imitating the wrong things.
Observe and learn from others who have been where you are going. But don't lose yourself on that journey. Who you are is far too important for that.