People often want to talk to me about accountability, and how to create more of it (mostly, that part of the conversation is about other people). Today's quotation is a favorite of mine, and helps us put all of this in proper perspective.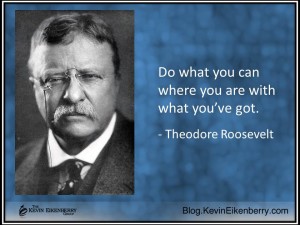 Questions to Ponder
– What can I do?
– What have I got?
– How might my results be different  if I followed this admonition?
Action Steps
1. Survey your current situation, thinking about the opportunities surrounding you.
2.  Notice challenges, but focus on what you can do, not what you can't.
3. Do something (anything).
My Thoughts
We all get dealt situations and circumstances. They might not always be what we wished for or even feel we deserve.
That's life.
If we follow the advice of the 26th President though, we will get better results, regardless of our circumstances. If you follow the action steps above, you will stay out of a victim mentality, and focus on what you can do – and there is always something you can do. Being accountable means realizing that there is always something you can do. Yes, there are many things we can't control, but we might be able to influence nearly everything around us. Taking that approach gives you a much better chance of success.
Look at what you can do, then do it.