By Jacob Morgan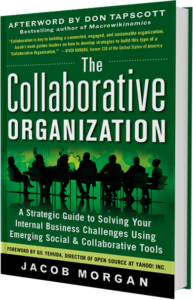 Organizations need to collaborate to be successful.  This has always been true.  What has changed is the complexity of organizations, the size of organizations, the increasing desire for speed, and the dispersion of team member both from a traditional office and around the globe.
Technology over the last several years has provided opportunities to step in and help meet these needs, and as these tools have been developed and improved the view of what might work best for your organization has been murky at best.
Enter The Collaborative Organization.  This book calls itself a strategic guide to solving internal business challenges using social and collaborative tools. (That is quite a promise, especially when stated on the front cover.
Here were my concerns before I started to read this book – it was going to be too academic and too quickly out of date. Neither is true.  The book does give case studies and while the specifics might become stale in the future, the lessons the author teaches will not.
This book, while not for everyone, will be of great assistance to those thinking about these challenges. I was impressed by the practical nature of the book, and the clear tools developed to help in decision making. Even with a very small organization I was able to glean specific ideas that will help us be more effective and productive.
The research is strong and pointed (and not overwhelming).  The examples are valuable and the frameworks and tools provided are very useful.  While not "light reading" it is assessable and useful. Overall, if the topic is interesting and needed in your organization, this book is a must read.