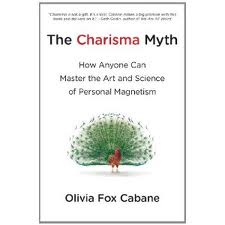 Today's Resource Recommendation is The Charisma Myth: How Anyone Can Master the Art and Science of Personal Magnetism by Olivia Fox Cabane.
In leadership workshops, I often ask people to create a list of characteristics or skills of highly successful leaders. Often charisma makes that list. When that item gets mentioned, or when we review the list, people tend to get a faraway gaze in their eyes. That look, I've found, means that people really wish they had some of that charisma, but they believe that it is reserved for the lucky few — that some have the charisma gene, and the rest of us, don't.
I've long maintained that to be a myth and this brilliant new book provides far more thought, research and application to that assertion.
Here is the author's point, from early in the book: "Contrary to commonly held charisma myths, you don't have to be naturally outgoing, you don't have to be physically attractive, and you won't have to change your personality. No matter where you are starting from, you can significantly increase your personal charisma and reap the rewards both in business and in daily life."
The book goes on to describe the components of charisma from a behavioral science perspective and provides specific exercises to help you practice the skills and learn the behaviors that will help you improve your charisma.
Some of the exercises you may be familiar with, but not have associated with this skill set. Some are easy, and some quite challenging. In every case the author outlines why they are used and why they work, and makes it all as practical as possible.
As leaders, we are in the influence business. As we are able to be more charismatic, we can influence more successfully.
This book is worth reading if simply to convince you that you can become more charismatic. It is more valuable, though, when you actually practice what it suggests. When you do, greater results await.