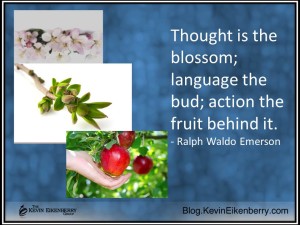 Today's quotation seems especially appropriate for spring. I hope it inspires and challenges you as much as it does me.
Questions to Ponder
– What am I thinking about?
– Am I putting words to my plans?
– Am I willing to act on those plans to create the results I want?
Action Steps
1. Spend more time thinking about your goals, direction, and the outcomes you desire.
2. Put those thoughts to words, whether on paper or with a trusted colleague.
3. Get to work – take action on those thoughts and plans.
My Thoughts
Lots of people talk about taking action (me included). And action can not be underestimated in the scheme of achievement. But as this quotation reminds us, the best results will come from starting some place besides action.
Thinking comes first. We must think about our actions, have a plan, and consider the implications, but even more important than that, the things we think about all the time will impact the decisions we make and the actions we take. You have heard that you reap what you sow. If you want to reap the sweet fruit of success, you must be thinking about valuable, important, and positive things. It starts with our thinking.