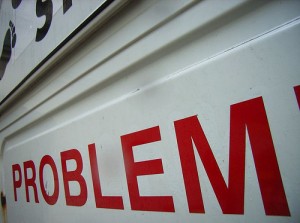 This could be a very short article, because the biggest barrier to collaborative problem solving is found by looking at the word problem backwards: melborp.
Do you see it? The biggest barrier is me.
Or you.
Or whoever makes the problem about them, their agenda or their solution.
Which means that we, too often, approach too many problems . . . backwards. We start with ourselves, not (really) with the problem, which is the gap between what exists and what is needed.
This challenge exists in all problem solving even when it is an individual situation. The challenge is heightened when dealing with a group of people. Now we may have competing agendas, competing perspectives and competing egos.
No wonder group problem solving is so messy.
While it might seem this article is complete, that I've already answered the question posed in the title, it isn't that easy. It is one thing to identify a barrier; it is an entirely different thing to remove that barrier.
So let's do a little problem solving on collaborative problem solving.
Keep the focus solely on the problem. Remember that a problem is the gap between what exists and what is desired. Once this gap is identified and agreed on, keep people focused on it. One of the problems with group problem solving is people don't always agree with what the problem is — getting this agreement is a key start, and with that agreement, conversation can be more easily refocused on the problem itself.
Get agreement on why the problem matters. Knowing and agreeing on the problem is valuable, and having a clear vision for how things will be better when it is solved is even more powerful. Help people see the benefits in solving the problem. There are likely situations you can identify with, where even if people say they agree there is a problem, they prefer the status quo. Get people to understand and rally around the why of and benefits to the solution.
Create dialogue about concerns and perspectives. One of the reasons personal agendas become a problem and "mess up" both the effectiveness and efficiency of group problem solving is those agendas aren't discussed. Create a safe environment to discuss concerns and desired outcomes. Give people space to voice their perspectives. One of the great values of having people collaborate to solve a problem is that they have different perspectives. Let those perspectives be discussed, shared and used and you will advance to better solutions more quickly.
Get everyone on the side of the solution. While this is a summary of the previous three points is it something more. In the end, collaborative problem solving needs to be collective problem solving. Rather than posturing, hedging bets or holding out for individual positions, help and encourage people to fight for the best solution, not what best meets their needs.
Collaborating on anything, including problem solving, is complex. The challenges won't be completely erased by the four ideas I've just shared. However, if you will apply these ideas in a disciplined way for yourself and with others, you will find better solutions in less time, because you will have put the focus where it belongs, on the problem and the best possible solution.
photo credit r000pert