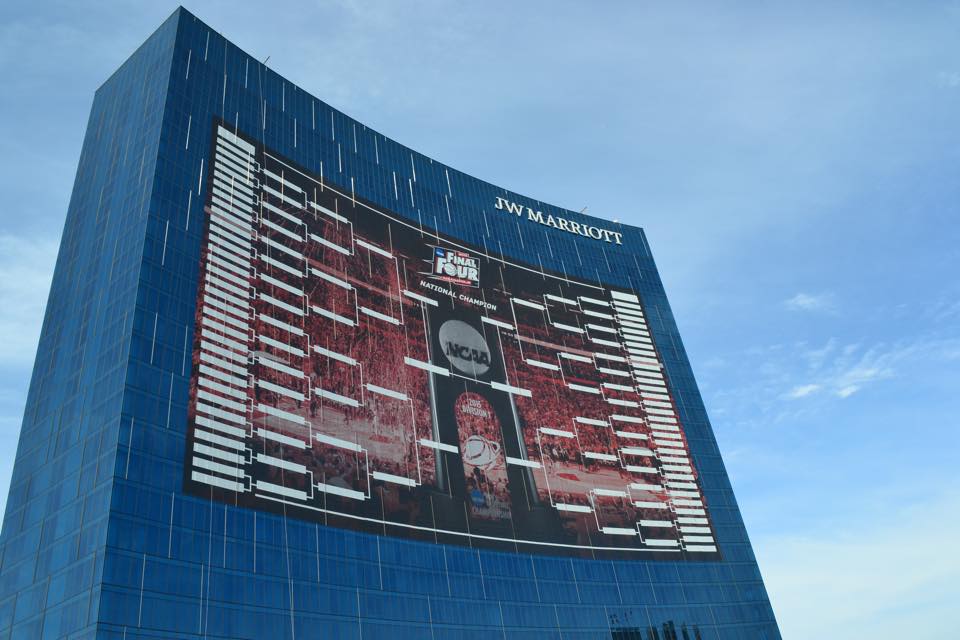 As you read that headline you may think . . .
I'm already in a bracket.
Do I really want to be in another bracket?
What is a bracket?
In case you were thinking the last thing – the Men's NCAA Basketball Tournament begins this week – with 68 teams vying to become the National Champion. A Bracket is a chance to make your guesses as to who will win each game. The person who gets the most guesses right, wins.
Next, you may be thinking, why would Kevin and his team be sponsoring a bracket? The reasons are many and varied, including . . .
The Final Four will be hosted in our home city of Indianapolis (The image you see is of a giant bracket on the side of the JW Marriot downtown).
We wanted a way to contribute to The Avon Foundation's fight against breast cancer (specifically because, Adrienne on our team, is walking to raise $3000 and I will donate $2 for every person who joins our bracket)
To give away some prizes (more on that below)
To let Kevin have a bracket where Purdue wins the national championship
To have some fun with you all of you!
We do want this to be fun, and we definitely want you and everyone you know to join us. It is completely free to you, you will help us raise money to fight breast cancer, and you might win some great prizes!
What are the prizes?
We will be awarding at least four prizes (more might happen, but we are promising these four):
The Leader after the Friday 3/20 games – 250 Remarkable Dollars
The Leader after the Sunday 3/22 games – 250 Remarkable Dollars
The Overall Runner-up – 500 Remarkable Dollars
The Champion – 1000 Remarkable Dollars
Remarkable Dollars are credits for any product, service, workshop or anything from The Kevin Eikenberry Group or The Remote Leadership Institute. They do not expire and are completely transferable (which means if you get your friends to join us and they win, maybe they would share their winnings with you!)
Our bracket will be managed online by CBS Sports. All issues and rules of the bracket are included once you sign up. I hope you will join us and invite your friends and colleagues to do the same.
Register and get started here.
Our group password is: Remarkable2015
It's time to play!