by Adrian Slywotzky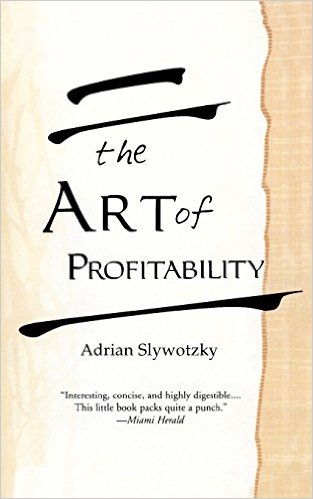 Most business novels or business fables help someone work on an interpersonal or leadership skill, and the best books in this genre do this very well. This book, while clearly in this genre, has a different goal – to help a business owner or leader think about how they make a profit, and how they could make a greater one by changing their model or approach to business.
The book is a story, and you do get to know the two characters throughout, but the book doesn't rely as heavily on the characters as many in this genre do, nor is the content as transparent or simplistic as most other business novels are.
Rather this gem of a book effectively outlines over 20 profitability models in enough detail for the reader to both understand and begin to apply them in their own businesses.
While I loved the content of the book, two additional factors stood out for me:
First, the "teacher" in the book suggests additional readings to the student throughout the story, and all are noted in a list at the end of the book. Some of these were known to me, others not at all. These titles have expanded my personal reading list as a result.
Second, the author suggests at the start of the book that the reader follow the path of the book's "student", reading the other materials, and doing the same homework. Doing this would be extremely effective as a learning device – and while I didn't follow this as a reader myself, I appreciate both the advice and the thinking of the author for constructing the book in this way.
While I have not made this book the centerpiece of my reading and study for 20 + weeks, as is suggested in the previous paragraph, I have, and will study some of the suggested readings as I work to improve the working and profitability of my own business.
Compared to many others in this genre which tend to leave me feeling good and hopeful, this book leaves me contemplative and curious – wanting to study more about the topic.
For the many reasons I have outlined here, if you are interested in greater profit as a manager or business owner, this book is highly recommended.