Effective coaching is a big topic.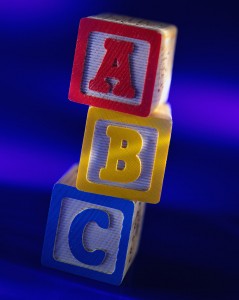 Here are just a few examples where being a more effective coach can make a difference: at work, for your children's sports teams, for a friend and in your community. As with anything as important and as pervasive as this topic, there are lots of resources available to you. You can search the internet, buy a book or take a course. There also are coaching certification programs and many other ways to learn the skills of being an effective coach.
It would be presumptuous of me to assume I could cover every topic and explain all the complexities of coaching in one brief article. Rather, my goal is to take you to the starting point of successful coaching.
Just like the alphabet is the building block of all reading and language, I want to share with you the ABC's of coaching success. These concepts alone can help you be a better coach. And as you understand and master these three specific concepts, all of the other knowledge and skills you add to these building blocks will be more successful as well.
A – Accountability
As a coach you want those you are coaching to be successful. Great coaches care and think about their team's performances and skills often. And yet, the best coaches know that in the end those performances don't belong to them, but to the performers themselves.
This may seem like a delicate tightrope, and it can be in one way. As a coach you may feel responsible if someone doesn't perform well. You may think about what else you could have taught them, another way to have inspired them or any number of other things.
While it is important to think about what else you could have done, in the end, great coaches know the final accountability for performance lies only with the performer.
The good news is that when you keep this accountability clear in your mind, you will be a more effective coach. Your job as a great coach is to promote the confidence, skill and proficiency of the other person. In the end coaching is a selfless act of helping the other person be successful. When you keep the accountabilities clear, those you coach, and by extension you, will be more successful.
B – Belief
When someone believes in you and your abilities, you can tell, can't you? Of course you can. And when people believe in you, you tend to work harder and perform better don't you? (You know the answer to this too.)
Now, let's flip the equation around for a second. If you believe in someone's ability or potential to succeed will you work harder to help them? Will you do just a little bit (or perhaps a whole lot) more than you might otherwise?
Let me give you the bottom line. If you don't believe people can succeed, don't coach them. You are doing both them and yourself a disservice if you do. Way before your skills, knowledge and experience, your innate belief in the potential of those you coach is the most important factor in their success.
C – Conversation
To be a good coach you must be able to communicate with the people you coach. This almost goes without saying. Beyond your communication skills though are your need for conversation skills. Good coaches are good communicators. Great coaches create conversations.
Great coaches ask more questions, work to learn more about those they coach and get their ideas, thoughts and opinions. All of these behaviors build a relationship and build greater knowledge and understanding for the coached.
While there will always be situations where a coach might provide direct advice, when you create conversation you create something much more powerful.
The ABC's of coaching: putting accountability in the right place, having an innate belief in those you coach, and creating conversations to teach and inspire.
I encourage you to apply one or more of these in your next coaching opportunity – whether formal or informal. You will quickly recognize the power in these building blocks.
——————————————————————————–
Potential Pointer: Coaching is a complex task, but when you recognize and capitalize on the basic building blocks – the ABC's – you will become a more effective coach immediately.
Coaching and developing others is one of the most important roles of a leader. And that's why I developed Remarkable Coaching. Designed for any leader who wants to be a more effective coach or mentor, Remarkable Coaching teaches sure-to-work techniques so that you can become the coach and ultimately the leader that you want to become. Learn more here.