By Ryan Tate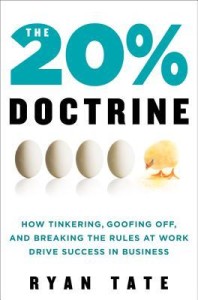 This book's title is a tip of the hat to Google's famous 20% of time given to work on personal projects of interest. This isn't really a new idea – Peters and Waterman made the idea of "skunkworks" famous in their book In Search of Excellence back in 1983.
Yet the concept has new life in the world of technology.
You will like this book if you like business case studies, especially if you have interest in Silicon Valley companies and examples. Having well told stories and examples is always entertaining and valuable.
Yet that isn't why I am recommending this book.
Most of you reading aren't at Google, Yahoo or some other technology company. You aren't likely in R&D or software engineering. If you are, the book is directly applicable to you and raises some interesting questions to ponder as a leader.
But if you aren't in those industries, you are like me. And I found the book challenging me to think about how I could apply these ideas, or adapt these ideas, or at a minimum, make sure that my team feels the freedom and has enough flexibility and empowerment to help us innovate and improve our work and our deliverables to our Customers.
As I read, I was continually thinking about my situation and how I could use these ideas.
That might be the best way to read any book, yet in this case if you do this, this book will be of much more value to you than if you view it as well written stories.
I like it for both reasons, but it is the challenge it provided me that leads me to recommend it to you.