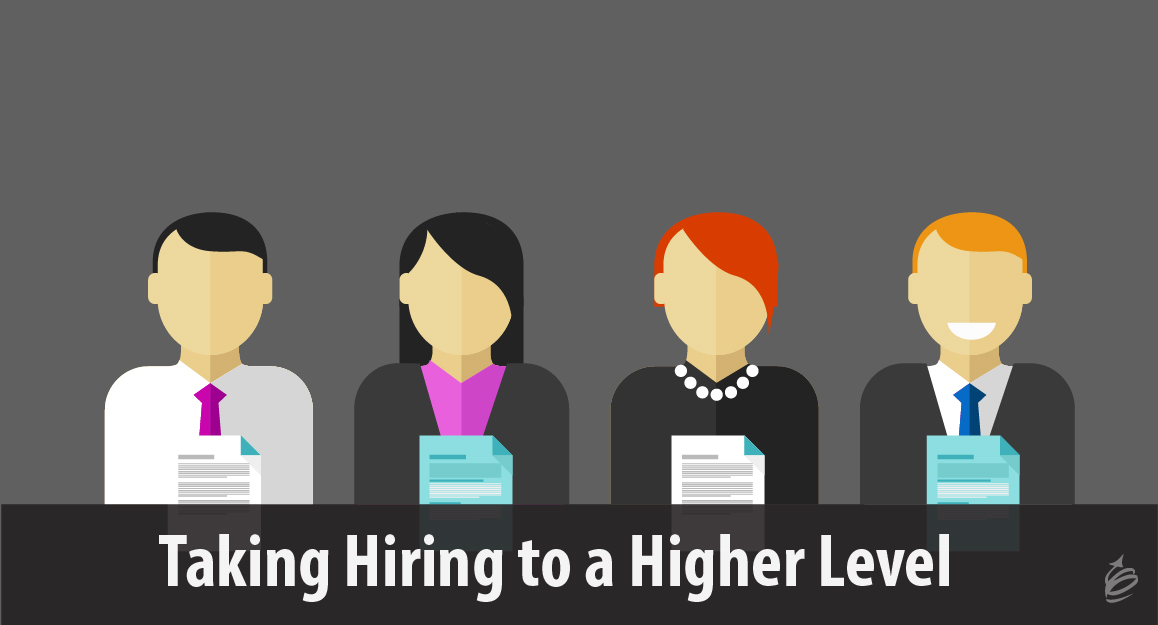 Getting the right people on the team is one of the leader's most important roles. It doesn't belong to HR, and it isn't something to (completely) delegate. The biggest contributor to your competitive advantage, productivity and success is your people – when you have the right ones. Put together the wrong pieces and the puzzle won't fit, your results will suffer and your stress and frustration may skyrocket.
There is lots of good advice and even legal counsel you need to apply to your hiring process. All of that is important and you should use that advice wisely. And the process of attracting great candidates is important too, but outside of today's article.
Unfortunately, you can do all of those things "right" and still not make the "right" hire. Our focus here is on, as the title suggests, taking hiring to a higher level – giving you three suggestions that improve your odds of adding the right people to your team.
Or stated a bit simplistically; there is (much) more to good hiring strategy than the right interview questions. (Tweet That)
Here we go . . .
Observe the Real Work
Let's face it, we base a large part of a hiring decision on an interview, which gives a person the chance be a hit (or a miss) based on skills that might not be important on the job. After all, we have all heard the lament of "they interview well" or "I freeze up in interviews". So while interviews, done well are important, they shouldn't be all you rely on.
Find a way to have people do a part of the job.
If they will be writing, have them write. If they will be selling, find a way to see them in the selling environment. If they will be doing Customer Service, have them talk with some of your Customers. Yes, this won't be perfect, and yes, sometimes it might be a bit simulated. But any steps you take here gets you beyond the interview process and give you a better picture of what that can deliver, and perhaps more importantly, how they go about delivering it.
Test Communication Skills
You may be thinking, "don't interviews test communication skills?" They do give you a sense of some, but not all of these important skills.
Most job application processes are pretty much the same, and therefore, it is easy for applicants to go into cruise mode. Resume, references, letter, interview. Check, check, check, check.
Since real communication is about message sent, received and understood; consider adding some steps or specific requests at various places in your application process. You can make simple requests, or give specific directions for them to follow. If they read the communication and follow it, you will know they are a skilled receiver of information.
Doing this will also give you a sense of people's attention to detail (which will be especially important in some jobs), but also shows you how important the job is to the applicant. Are they taking the time to understand your needs and meet your expectations? If people aren't doing that when they are trying to get a job (and putting their best foot forward), it isn't likely they will do it day by day, as a routine part of their work, once they have the job.
Check for Fit
Many will wisely have more than a single person interview people for a job. This is a great approach that is widely recommended. While any and all people that interview a person should be thinking about how this person will fit into the team and organization, I recommend you go one step further.
Have one of your "interviews" be with a possible peer or peers. Frame this with the applicant as a chance for them to get to know more about the organization from a different perspective – for them it will be a chance for them to interview your team. Encourage them to ask anything they want to know about the organization, culture and more. Give similar expectations to your team members. Let them know you aren't asking them to ask the traditional questions about professional background and skills; encourage them to be looking for attitudes, approaches, and interests. You are asking them to think about fit.
While I strongly believe in this step in the hiring process, two words of note:
Make sure these team members know the basic legalities of what questions they can and can't ask. They are part of the hiring process and you want to set them up for success.
Make sure they aren't looking for clones, but a fit. Your team will be more successful as a melting pot of experiences and backgrounds than as an assembly line of completely interchangeable parts.
The hiring process is always going to be a bit messy because we are dealing with human beings after all! These steps will, however, greatly improve your odds of success in finding the right people help you and your organization more effectively reach your goals.