By James Karl Butler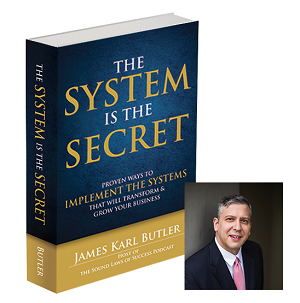 Leaders and business owners are always looking for an edge, a tool to help them get better (and more consistently better) results. This book points the way very specifically to one of those secrets. It isn't new and it isn't sexy, but that secret is systems.
In this book the author, a serial entrepreneur who has taken four companies to greater than $1 million dollars in sales, shares this secret in great detail and with significant credibility.
I had the opportunity to read this prior to its recent release.
The book opens with a clear declaration and explanation of why systems are so important, then takes the reader through chapters on a number of key areas where systems an help. Here is that list:
– Goals, Mission and Vision Systems
– Inbound and Outbound Lead Systems
– Pre-Sales and Marketing Systems
– Sales (and Scripting) Systems
– Followup Systems
– Customer Service Systems
– Hiring Systems
– Leadership Development Systems
– Crisis Management Systems
– Financial Systems
– Personal and Team Productivity Systems
– Business Reinvention Systems
– Systems for Balancing Work and Family
The final section is just as important, helping you implement the systems you put in place.
As you can see, the book is comprehensive. And it isn't lightweight either – weighing in at nearly 500 densely packed pages, there is much here. While at first glance it might seem hard to dive into, it's very readable and packed with insight and experience not just from the author but from other experts and authors as well. I would recommend reading the sections that most apply to your needs and picking them off one at a time. (And what leader doesn't have challenges in at least one of the areas above?)
When viewed almost as a reference guide from an expert, this book becomes an even better value.
As a part of the launch of the book, if you buy a copy and follow the directions here, you can attend a virtual seminar in October featuring the author as he helps you build your business systems!