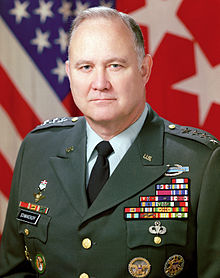 We've all read, heard, and likely used the term "blood, sweat and tears".  Heck it is even the name of a popular band formed in the '60's.  Today's quote uses two of those ideas in a different, and to me, a more illuminating way.  I share it today on the day after it's author has passed away.
"The more you sweat in peace, the less you bleed in war."
– General  H. Norman Schwarzkopf
Questions to Ponder
– How much time and focus do you give to preparation?
– How often do you make preparation and planning a part of your thought process?
– Have you ever wished, after the fact, that you had done more planning?
Action Steps
1.  Even if it isn't your first inclination, include at least some planning time in every new task or project.
2.  Utilize those around you who are good at planning to help with this when appropriate – they will appreciate and you will be rewarded with better results.
My Thoughts
The conventional wisdom is that some people are planners, some are not.  And if you look at behavioral styles research you will find that there is validity in that wisdom.  Certain personality styles value planning and preparation more, and some people have planning, preparing, and strategizing as a personal strength.  Schwarzkopf, through his quotation, clearly valued that strength.
Few of us are planning for things as life and death as the battles the General had in his future, yet his point is extremely well stated.  If your first inclination is action, and not planning, more planning will help you improve your results and success rate.  If you are a planner by inclination or strength, congratulations – you can bring an very valuable skill set to any team you are a part of.
For your next project or goal, think about the General's quotation and find ways to apply it to your world and work – you will be glad you did.