A few weeks back I shared a quotation about our imagination.  Later I shared a quotation about action.  Today I extend and connect those ideas together with a call to action from the famous British Prime Minister.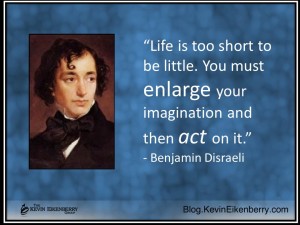 Questions to Ponder
– Am I willing to play big?
– How big is my imagination?
– When did I last act on my biggest dreams?
Action Steps
1. Take time today to imagine the future you desire.
2.  Give yourself permission to enlarge that imagination.
3.  Let the implications of reaching that vision sink in.
4.  Determine what step to take to move in the direction of that vision.
My Thoughts
Think bigger and be bigger.  It sounds good yet many of us are afraid to think big or to acknowledge our imaginations.  An even bigger barrier is the belief buried in the phrase so many people grew up with – "don't get too big for your britches" – which tells us that there is even something wrong to have big dreams.
While I urge you to consider your personal beliefs and barriers to living today's quotation, as a leader (and parent) I also encourage you to think about what message you are sending and reinforcing in your team.  Are you encouraging them to imagine a bigger future?  Are you encouraging and equipping them to move in that direction?  Doing that is one of the biggest opportunities we have as a leader and parent.
Go ahead – enlarge your imagination for yourself, and those around you.