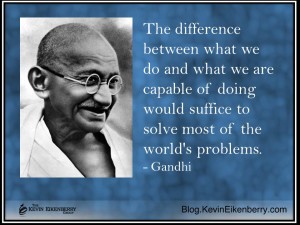 Today's quotation is from one of the world's most quoted people.  The way in which this particular quotation is used is typically to look at the world's big problems, and as such it is a powerful thought and reminder.  I want you to read it, reflect on it, and do what I suggest below through two different, and more personal filters – as an individual and as a leader.
Let's get to it.
Questions to Ponder
– What ideas or thoughts come to you as you read this quotation?
– What is the personal application for you?
– What problems would you like to solve by closing this gap?
Action Steps
1. Read and think about this quotation for you as an individual.  Write down your insights.
2. Read and think about this quotation for you as a leader and in relationship to your team and team members.  Write down your insights.
3.  Wait one day then review what you wrote both individually and as a leader.
4.  Determine your best next steps from your own observations.
My Thoughts
If you are a long time reader of these Friday blog posts you may have noticed that I was less directive and more open in the action steps.  As I reflected on this quotation myself after I selected it, it became clear that there are different lessons, and opportunities in it, and I didn't want to presuppose what that might be for you.  I will tell you two thoughts I had, that I hope are helpful.
1.  We have vast potential, and sometimes we just need to get started (or keep going). When I think about problems I face, or opportunities I've not taken full advantage of, it is often because I wasn't disciplined or focused enough solve or capitalize on them.  It isn't that I couldn't, it is that I don't.
2.  Our team members have more capacity and potential then we or they realize.  I write about this often, give away and sell wristbands that say "You are Remarkable", and close every email with the same phrase.  I believe that we all have great potential, but how often do I/we challenge people to move to new levels of understanding, capacity and skill?  I don't think, often enough, or well enough.
Today's quotation has meaning for your life.  I've just shared two reason it has meaning for me.  I challenge you, urge you, and even deplore you to find the meaning for yourself  . . . then go out and apply it.