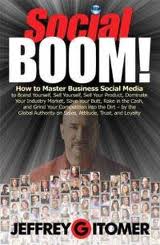 This week's Resource Recommendation is Social Boom!  How to Master Business Social Media by Jeffrey Gitomer.
I'm pretty active on social media, especially when thinking about, as the book subtitle suggests, business social media. I bought this book for three reasons:
1.    I respect the work of the author
2.    I thought this book might be a good recommendation here, both because of the topic and the author
3.    I hoped I could get at least one nugget that we could apply.
I'll start my recommendation by taking these points in reverse.
This quick hitting book, focuses on Facebook, Twitter, LinkedIn (with a bit on YouTube as well.) These are good choices, given that the book is about business uses for social media. While we use all four for my business, I found exceptional value in the LinkedIn area. I definitely underestimated my goal with one nugget  — I got a bunch!  (If you are on LinkedIn and want to connect with me, I'd love that!) Your mileage may vary, as your greatest value might come from the very solid advice in the other areas.
Overall, regardless of your personal experience with, and use of, these tools for your business and professional goals, you will find ideas worth implementing. Not only are the ideas practical, they are written from a business perspective, not the all-too-prevalent "wow isn't social media cool" perspective.
Lastly, if you aren't familiar with Jeffrey Gitomer, you live under a rock, don't read much, or don't read in the sales area. He has written a number short, highly focused bestselling books on sales and business success.  His writing style is distinctive, direct and almost in your face. Because of this approach, I would especially recommend this book if you know you need to get going (or get started) in one of more of these social media areas. This book will get your attention.
In summary, for all of the reasons I hoped I'd like the book, I do. I recommend this book highly.