By Cal Newport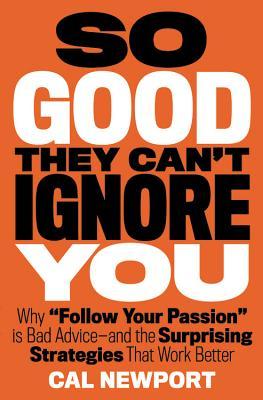 Conventional wisdom says that we should be passionate about our work, and that same wisdom for the last thirty years has produced books, speeches, consultants and coaches that help people "follow their passion."
In this book, the author flatly disagrees with this premise and attempts to convince/prove that approach is not only ineffective but also perhaps dangerous.
The title of the book is taken from a quote from actor/comic/musician/author Steve Martin when asked about the secret to success. The subtitle is the premise of the book.
Written in a manifesto style, each chapter lays out a part of the author's reasoning and he does this well. He takes the contrarian viewpoint and lays it out very well. The book is built around his four rules:
Rule #1 – Don't Follow Your Passion
Rule #2 – Be So Good They Can't Ignore You (or, the Importance of Skill)
Rule #3 – Turn Down a Promotion (or, the Importance of Control)
Rule #4 – Think Small, Act Big (or the Importance of Mission)
There are three things I love about this book, and that lead me to recommend it to you:
The book IS about doing work you love, but about a more effective (though not easy or popular way) to get there. It delivers on this. If you are in the "follow your passion" camp, I urge you to keep reading with an open mind – I think you will find it useful.
The author started the search to figure this out for himself, and has followed his own advice, and written about it. This gives it a different feeling and level of application.
The book is well written and in fact an enjoyable read. In the end, I won't recommend very many books that don't meet these criteria.
The author lays this out as a black and white decision on the road to meaningful and enjoyable work – start with passion or start with skills. While I'm not sure it is a 100% black and white choice, I am convinced there is much more to it that just "follow your passion". I believed that before I started reading and this book firmed and extended my belief in that point.
This is a valuable book for anyone to read – whether for personal reasons, as a parent, or as a leader helping others. For all of these reasons, I highly recommend this book.