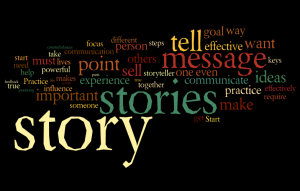 Starting from the time we have enough of a vocabulary to string together two sentences, we start telling stories — and even before that, we are entranced by them. The poet Mariel Rukeyser wrote "The universe is made of stories, not atoms." While that isn't literally true, we all recognize the wisdom in the thought. Our lives are a collection stories, strung together one after another.
We make sense of our lives through stories, relate our experiences through stories and therefore stories are an incredibly powerful way to communicate, influence and lead.
While some people think "I'm not a storyteller," that isn't true. We are all storytellers. My point isn't to convince you to tell stories to communicate your message more clearly, it is to help you do it more effectively and intentionally.
Reread the previous paragraph. Before I get to the six keys promised in the title, and before you can focus on these important keys, you must own the fact that you can and do tell stories.
Got it?
Good.
So, let's make the stories we tell achieve the goals we have for them — to instruct, explain and, in the end, sell our ideas to others. As leaders, we must sell ideas. As co-workers, we must sell ideas. As spouses, parents and friends, we want and need to sell ideas.
So how can you use stories to do that more effectively?
The Six Keys
Start with the goal. While stories are critical to your communication success, it isn't about the story – it is about the message. What are you trying to communicate? What is the action you want your listener to take? Write down that key point, that message. Once you have that crystallized, the rest of this process gets easier.
Pick the story. This is important. While one story could match different messages, the goal is to make sure the story, and the way you tell it, makes the compelling and memorable point you want communicated. The story can be someone else's story, a popular story or a story you read or heard. Any of these will work, but generally speaking the stories from your personal experience will be the most effective.
Hone the story. Once you pick a story, construct it based on the message you want to deliver. This may require you to shorten some parts or expand others. It might require different context.  Think to about how you will tell it . . . first person? Third person? Attributed? All of these things will impact your story's effectiveness, so take them into account from the start.
Use descriptive language. You don't have to describe every detail (this counterbalances the next point, doesn't it?), but you need to tell the story in a way that allows the other person to see and experience it; it is that experience that makes your story powerful.
Keep it short. Your goal is for your story to forward and solidify your message. Nothing more. So as you hone your story, do it with a knife, carving the story to its essential and important message.
Practice! If you are going to tell the story in a meeting, presentation or even to make a point in ongoing conversation, it will be more effective if you practice it. Consider specific word choice, timing, as well as length.  Practice it, keeping these factors in mind. Realize that most people's tendency is for a story to get longer on retelling, which is why the steps of clear message and honing are so important. When you practice, focus on how others will receive your message. You can even have someone listen to the story as you practice to give you valuable feedback.
You are already a storyteller. These steps will help you be a more intentional and effective one.
Start practicing today — your communication and influence depend on it.