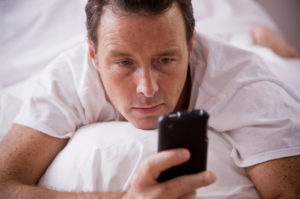 Yesterday I read an article in the online New York Times, titled Digital Device Deprive Brain of Needed Downtime.   While I encourage you to read the article, the title gives you the message. 
I couldn't have cited the research included, but nothing in the piece surprised me at all.
Then, last night on the NBC Nightly News, while making dinner I listened to a story with a similar message – this one all about teens going to bed with their phones, texting, etc. way past "lights out."
This morning, in an early morning message to my son away at college, I suggested a ten minute morning and a ten minute evening moratorium in devices, so he could plan and think about his day.
I am a technology lover.  I have the maximum number of Facebook friends allowed (please join my fan page instead).  I have almost 7800 twitter followers (join me here).  I carry a Blackberry to talk, text, check the weather and email (and more), send and receive tons of email each day and more.  I sometimes watch too much TV, and sports radio or music is often on in my car.
So I know the malady that these news stories speak of, and fall prey to it myself sometimes.  Here is my frequent advice to myself, that I now share with you.  STOP!
Let me be more specific.
Shut it down.
Turn it off.
and think.
The multi-tasking myth gets in our way and we think we are being more productive by using our toys in every brief interlude in our day.  Our devices and services and technology may allow us to get one more thing done, make one more phone call, connect with one more person, but when are you taking time to put all of that activity into context?
When are you thinking about your day? 
When are you planning, so you are using technology and all those brief moments to do the right, strategic and more important things?
When are you reflecting on the success of today and using that as a springboard for your future?
These things can't be done while cradling your phone, balancing your laptop, sending one more email, watching the latest viral video or skyping with your friend in Singapore.
You are the only person that can find the right balance for you.  My suggestion, my urging, my plea is that you shut it all down and disconnect long enough to think about these question and begin to find that balance for yourself.
Planning and reflection are too important to your happiness, success –  and yes even your productivity that you believe your technology supports – to be relagated to times when your battery is too low or there is nothing on television.  Make a conscious effort and discipline yourself  to invest in yourself, not just the latest gadget.