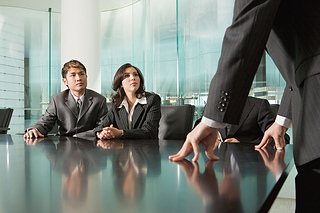 As a leader you will most likely have to deliver a tough message or difficult news at some time or another. And I'm often asked how to do it without causing other problems bigger than the original problem itself.
Learning the skills to doing this well is like making a big pot of homemade soup – there are a bunch of necessary skills –
Communication skills
Conflict skills
Influencing skills
Feedback skills
And after you have all the ingredients, it all needs to be simmered in the broth of confidence.
I say homemade, because there isn't a perfect recipe, but there are principles and ingredients that must be merged with situation and your particular style.
If you want to communicate difficult decisions honestly all the while gaining support from your team and maintaining morale and engagement, you need a master chef to help you create this successfully.
Enter Guy Harris, Master Coach and Communication Chef.
On April 9th he will lead a focused and targeted teleseminar, We Have To Talk: Announcing Unpopular Decisions without Destroying Morale, that will help you create this soup and give you the confidence to make it work.
You'll learn how to break tough news delicately, manage difficult situations effectively and gain buy-in and support from your staff.
This teleseminar is available live, via recording, or both – so you can listen and re-listen, share it with other leaders in your organization and more.
Focused skills, in a relevant and practical one hour learning experience. Join Guy for just that on April 9th.
Get all of the details, and register here.
photo credit: Victor1558 via photopin cc