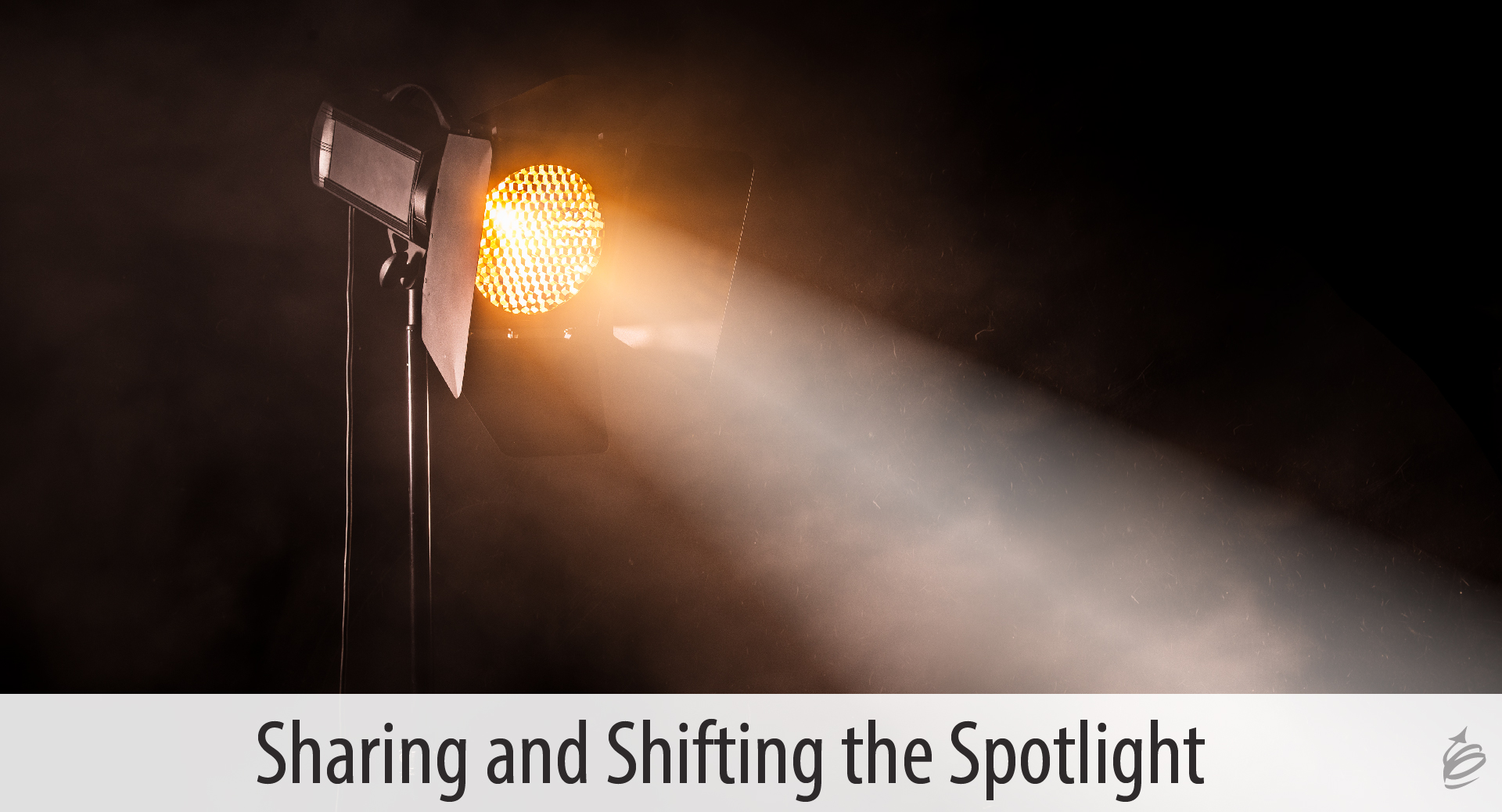 As a leader, there will be times when achievements are made, goals are reached, and the spotlight will shine in your direction. While the role of the leader is important, too many leaders want to bask in that spotlight … by themselves. The best leaders know that the recognition for both effort and results doesn't belong entirely to them. But man, the spotlight can feel good. How do we share and shift that recognition in the most effective ways?
I'm glad you asked.
First of all, let's consider my metaphor of recognition as a spotlight.
Imagine standing on a stage with a spotlight shining on you. People see you and see you as the star of the show. Sharing the spotlight is like inviting your team into the spotlight with you.  You are still seen, but you are not seen alone. Shifting the spotlight is asking the lighting crew to move the spotlight to the team, leaving you out of the light completely.
Why Share or Shift the Spotlight?
I can give you both ethical and practical reasons for sharing the spotlight and recognition for things achieved by the team.  First, the ethical one:  You didn't do all the work. You may have led it, you may have rolled up your sleeves and worked along side your team, but you didn't do it alone. Taking the full responsibility for great results is truly irresponsible, and in many ways like theft.
From a practical perspective, when you share the spotlight, or even better if you shift the recognition from yourself to the team, you will show team members you are trustworthy, other-focused, and that you care about and value them. When your team feels that way about you, the commitment level to achieve again (at even higher levels) will soar.
How to Shift and Share the Spotlight
Before you can share or shift the accolades, spotlight, or recognition, you must want to do it.  While I have given you both practical and ethical reasons to share or shift the spotlight, the emotional reasons to bask in it can be hard to ignore. That's why you must decide what you will do long before the spotlight moment. Here's how to do that.
As the leader, your role in the ultimate success of the team starts early. Help the team see the end goal, help them get excited about the prospects afforded by the accomplishments of the work.  When you set that vision, it will be easy for you to see that you can't do it alone.
Once the team is on their way, your job is to encourage, support and hold your spotlight (or even just a flashlight) on their work. Be aware of their effort and commitment and be grateful for it at every step of the way.  When you are recognizing them at every step, it will be far easier – even natural – to step aside and share or shift the spotlight and recognition to them when it comes from outside sources.
When you shift your mindset about your role and the role of the team, you will build an even better team and be a leader people want to follow. And chances are, that is a better and more satisfying spotlight for you to bask in, because it is far less temporary, and far more meaningful.
When the Spotlight is an Indictment
Let's face it, the spotlight can shine when things haven't gone so well too.  I've given you the logical and emotional reasons why you should shift the spotlight when things go well. Shifting the recognition is what good leaders do.
But good leaders accept the blame, not shift it. When things go poorly, or results are less than expected, stand in the light, and take the heat. Understand the results and take responsibility. After the spotlight fades, work with the team to determine what can be learned, then adjust and prepare to get better results the next time.  That will ensure that that the warm spotlight of recognition can shine on them the next time.
…
Learning why and how to share recognition is just one small part of the From Manager to Remarkable Leader learning experience. When you join me virtually, you become a part of a small group of leaders who, like you, want to learn and apply cutting-edge ideas grounded in and connected to timeless principles. This six-session, virtually delivered learning experience is packed with insights and opportunities to learn from me and your peers. Learn more, find dates, and get registered here.
If you are looking for a low-risk way to try this workshop for your organization, check this out to see if you qualify.