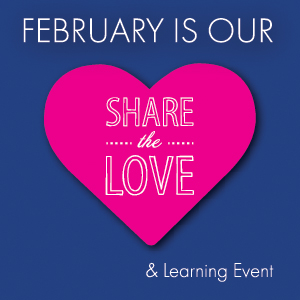 With all respect to the State of Virginia, February is for lovers.
We at The Kevin Eikenberry Group think celebrating love is a good idea, and so we decided to celebrate something we love a lot – learning.
All this month, when you register for any of our eligible workshops, you get to "share the love" by inviting someone to come with you, with our compliments. This unique opportunity allows you to share something you love, learning, with someone you love (or, at least care about).
Here are some ways you can take advantage of this opportunity:
Register yourself and bring someone you mentor with you.
Register yourself and bring a family member with you.
Register yourself and offer the other seat to anyone on your team who wants to attend.
Register yourself and bring someone from your favorite charity with you.
Register one of your team members and let them suggest who else to invite.
Register one of your leaders and send a future leader with them.
We are caught up in the season, and hope you will take advantage of our excitement and help us help more leaders and future leaders make a bigger difference in the world, starting right now.
There are no codes or special coupons needed. When you register for any listed program this year, we will ask you to register your partner right away. We want to make it as easy as possible for you to share the love!
If you do have any questions or need help registering, contact Lisa by email or phone (317-387-1424, ext. 9).
You can see a complete list of participating workshops and learn more about each here.