The run-up, the hype, the media coverage has been almost unprecedented.  People have been talking about it for months. The media is ready.  Apparently, the viewers are ready. And tomorrow, people around the world will be glued to their televisions, attending viewing parties, and putting their lives on hold to watch one wedding in London.
Yep, tomorrow is the day, and I'm already exhausted by it.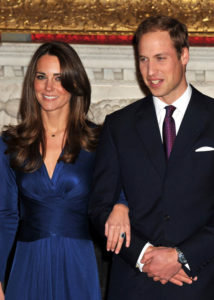 Don't get me wrong. I am  happy for William and Kate (as happy as I can be for two people I don't know and will likely never meet).  I like weddings and certainly believe in weddings and the beauty of marriage.  I wish them all the best, and given the high profile life they will lead, they will need all the good wishes they can get.
But I won't be watching.
I realize I am in the minority. While I can't find a definitive guess as to how many people will be watching, the smallest number I've seen is 1 billion – and I've seen estimates online as high as 3 billion.
So if I'm not going to watch why am I even writing about this?
Because, unless you are in the wedding dress, catering or wedding planning business, I'm not sure you need to be watching.  I understand the entertainment and  curiosity factor, but let me be a bit more clear.
As best as I can tell, the major news outlets in the USA are going to cover 7 hours of live coverage tomorrow.
Seven hours!
Think of the national productivity lost as millions watch. The numbers are staggering even if people only watched one hour each.
Ok, my rant is over, but my point is still to come.
Here in the USA to watch this event, most people will get up earlier than they would otherwise get up. I'm suggesting to get up then, but don't turn on the TV. Trust me, you will be able to see all the highlights on the evening news – that will be all they cover then too.
So if you aren't turning on the TV, what should you do? While everyone else is watching, take one hour to do one of these things instead:
Read a book and learn something. Pick up a book "you've been meaning to read" or a classic you never quite get around to.
Write a letter to a friend. It could be email, but how about a real letter?
Review your goals (or write them down if you don't have them). Time spent doing this is never wasted.
Learn ten new words. Vocabulary is an under-appreciated key to success.  Here are tips on how to do it, and here is a list of 1062 to start – I'll bet there are 10 you don't know.
Spend a focused hour on a major project (personal or professional).  When was the last time you spent a focused hour on it?  You'll be surprised how much you will accomplish.
Write short notes of appreciation to your co-workers, family or friends. Short notes letting people know how much you care about and appreciate them will lift their spirits, and yours!
Plan your next week. Look carefully at your calendar, think about the major tasks you need to complete and strategize on how to make your week your most productive ever.
I've shared these seven suggestions as an alternative to watching the Royal Wedding.  If you were planning to watch the full coverage, you could actually spend an hour on each of them!
Of course any or all of these investments in yourself and your future could be made anytime, not just during the blessed ceremony. And, isn't improving your life, your results, and reaching your goals at least as important as watching  someone else reach theirs?
Watch the wedding if you must, and please invest some time in yourself too. The wedding will happen without you. Your best future won't.