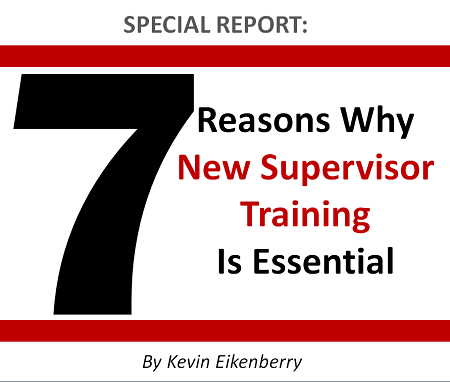 If the title of this caught your eye, and you want better organizational results, you can stop reading and just get your copy of this Special Report right now.
If not, consider this . . .
Are you hiring or promoting more supervisors because of business growth?
Do you require new supervisors due to retirements or promotion of other leaders?
Or do you need more new supervisors due to other sorts of turnover?
There are plenty of reasons you may find yourself with new leaders in your ranks, some positive, some maybe less so.
I've written a Special Report with the same title as this post to help you if you find yourself in this situation. If you are a C-Level leader, an HR leader, a Division, Business Unit or Department leader, this Special Report is for you.
In this information-filled and practical Report, you will begin to understand (perhaps in new ways) the massive impact your new supervisors will have on the short and long term results of your organization and why time spent in helping them be more successful could be one of the most powerful investments your organization could make now and in the future.
If you see yourself in anything you have just read, for the sake of your organization, your leaders and all of your employees, please download this Special Report.