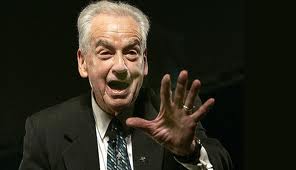 I first read See You at the Top (Zig Ziglar's classic first book) over Christmas one year during college. I had heard of Zig, and checked out the book from the library. I took pages of notes since I couldn't write in the book. I still have the notes.
Soon after, I started listening to Zig's tapes, mostly while I drove — both studio recordings and recordings of his live speeches (he famously calls this enrolling in Automobile University). I've listened to some of those so many times that even years later, I can recite long sections of the monologue.
Over 20 years ago, my wife Lori and I attended the weekend workshop in Dallas put on by Zig and his organization called Born to Win. It was a seminal moment in my career.
While I've had only spoken to him personally a couple of times, I've learned many things from Zig, including many things about the speaking and training business (which isn't really discussed here) over the years. But in honor of the release of his newest book, Born to Win, I decided to share with you the seven biggest life and career lessons I've learned from Zig. If you are familiar with his work these will make you smile. If you aren't familiar with him, these lessons will still ring true.
Either way, read on . . .
The bedrock of values. Zig famously says the bedrock of his success is his love of Jesus Christ and the love of his wife Jean (the Redhead). In any writing, in any speech and in all parts of his life, these two bedrock principles show through. I'm sure there have been many (millions?) in his audiences who didn't share his religious convictions. That fact didn't diminish his zeal and enthusiasm to share what is most important to him. If you want to be more influential, you must live from, and lead from, your most deeply held values – all the time.
The foundation of principles. Zig has taught about the same principles his entire career. Family, Desire, Work, Attitude. Goal Setting, to name a few. The principles that he has taught are powerful, yet they become more powerful by their consistent, ongoing application – just like he has taught them for so many years. Do you have foundational principles you work from or are you always chasing the newest idea, guru or process?
The truth in timing. Zig wasn't immediately famous or successful. He worked hard, often unsuccessfully, to build his skills as a salesperson. And while now one of the most famous speakers alive, his speaking and writing career didn't really begin, or have any success, until his mid-forties. Whatever your age and career arch, if you do the right things, and prepare for opportunities and success, it is never too late.
The importance of story. As a speaker and trainer I've recognized the power of the story for a long time. Zig knows it too; he tells the same stories over and over. Not only are stories important, when you find one that works to influence, persuade or teach, keep using it. Some of Zig's stories I know so well it is like they are my own. The lessons they teach are now mine. What stories can you use in your life and work that will consistently help you reach your goals?
The importance of selling. Zig started his career as a salesperson. He wrote several books about sales skills, and gave hundreds of speeches on that topic. Zig is an unabashed salesperson – whether selling cookware, or a copy of his latest book. He didn't just teach sales skills, he taught people (and not just professional sales people) the value of and importance of selling. He believes it is a noble profession, and so do I. Do you realize that, whatever your job description, you are a sales person? Have you ever thought about yourself in that way?
The truth about goal achievement. Zig's Goal achievement system has been taught for years. It has recently been re-released by Seth Godin (learn more here). The biggest power of this system is that it takes us past the event of setting the goal. It gives you a process and steps to plan for and achieve your goals. After all, as I have written and said many times, success isn't about the goal, it is about the achievement of the goal. Do you have a goal setting – and getting – process to help you reach your goals, both large and small?
This article is written to celebrate one of my mentors, but it has more important purpose too. I challenge you to think of each of these lessons, and who in your life personifies them, and then learn how you can apply these lessons in your life and work as well.
The final lesson is encapsulated by what is likely his most famous line. "You can get anything in life that you want, if you help enough other people get what they want." Our success is always predicated on helping others first.
If you do, you will make me smile, and, I'm sure, Zig too. After all, he always says at the end of a speech, " . . . do these things and I will see you at the top!"