By Art Barter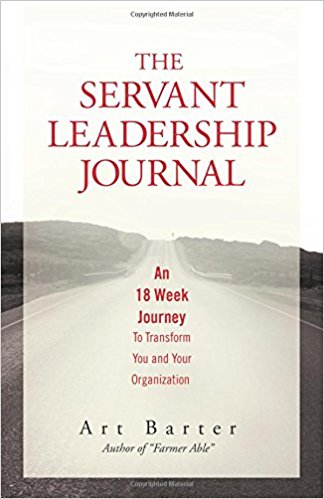 So this looks like a book, feels like a book, but it isn't really a book.
The title shares the secret; this isn't a book, it is a journal.
Written by an experienced leader who is passionate about servant leadership, the book/journal is fashioned around nine behaviors:
Serve first
Build trust
Live your values
Listen to understand
Think about your thinking
Add value to others
Demonstrate courage
Increase your influence
Live your transformation
This, along with an opening and closing chapter and some tools in the back, make up the complete book. The core of the book though is the journal aspect.
For each of these nine behaviors, there are questions for you to ask yourself for 14 consecutive days before going on to the next chapter/behavior. And since it is a journal, there is space to write your answers to each question, each day.
I believe in these behaviors, and believe in the power of writing as a reflection and learning tool – so for those reasons, I like this tool. Each chapter opens with a short piece of content which is solid and gives you context for your two weeks of reflection in that area.
So you can call it a book or call it a journal – whatever you call it, when used it can make a difference in your leadership practices and behaviors, and for that reason, I highly recommend it.