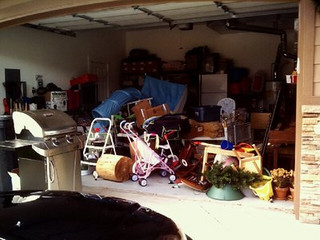 Have you ever cleaned your garage?  When you started the project, the task was pretty well defined.  You could look at the garage and see what needed to be done.  But once you got started, two things happened.  First, you realized there were more necessary parts to the job than originally thought – the project got larger as you went.  Second, you found additional things that could be done – a small organization project here; an old unfinished craft project there.  And as you found those, they seemed to be added to the initial project as well.
If you have ever experienced this in the garage or anywhere else, you have experienced what project managers call scope creep. Generally thought of in negative terms, and often the primary excuse for cost and time overruns in projects, scope creep is the addition of small changes to the project that by themselves are manageable, but in total, quickly become significant.
At the Start
Before we go too far, let's start at the beginning.  You can't have scope creep unless you start with a scope.  Solid project management principles (and common sense) tell us that before we begin a task, we should outline what it is and what is included.   Everything that follows in this article assumes this basic starting point.
The Two Causes
Because scope creep can have a drastic impact on the success of any project, it is important to understand it and keep it in proper perspective.  Using our garage example to help us, we can see that there are really two sources of scope creep – the previously unknown, and the shiny object syndrome.
The Previously Unknown.  Once we start cleaning our garage we uncover something we didn't originally see that clearly must be done to have a clean garage – it can't really be avoided and it wasn't known when we started and will take additional time and effort. For example if you find that the bag of dog food has a rip in it and dog food has spilled on the floor, it will have to be cleaned up (and all you thought you had to do was move the bag).  These kinds of things come up in projects all the time.  They can be minimized with a clearer picture of the project up front, but even with significant preparation of the initial scope, these things will happen.
The Shiny Object Syndrome.  In the garage when you uncovered that old project you had forgotten about, you got mentally diverted.  You decided you really needed to work on this now.  After all, since we are right here in the garage, we might as well do this too, right?  This happens in projects all the time, doesn't it?  As we are working we identify new things, new opportunities or new ideas – all of which are connected to the project, so "as long as we are here we might as well do this too – doesn't that make sense?"  These shiny objects might make sense individually, but when added up, can shift, change or bloat your project.
Now What?
So we recognize scope creep and realize that the causes are naturally occurring and make total sense.  We shouldn't be surprised or "creeped out" by them – we should learn to recognize, label and work with them to get the best from our initial project goals.  Here are six ways to help manage scope creep.
Get the purpose first.  Yes, you have a project, but why are you doing the project – what is your true purpose?  Without this true north, projects can easily get side tracked and will grow quickly. Run every unknown and especially every shiny object against the purpose test.  Ask yourself if this item is needed or critical for reaching the project's purpose. If not, you know what to do with the item.
Set clear initial boundaries.  Yes, there must be an initial project scope.  If there isn't one, you can't really define what is creeping.
Argue the opposite. Remember that shiny objects are attractive and seductive.  They always seem like logical add-ons to the project.  And sometimes they even look like they won't take very long at all.  History tells us otherwise.  When the solid and seductive case for the shiny object appears, argue the opposite – why we don't need to add it, and why it doesn't make sense.  By doing this you will at least make an informed decision on its inclusion.
Determine costs.  If you are going to add something, don't just add it; determine the cost in time, focus and resources.  Don't decide to include it in the project until those implications have been considered.
Be willing to say no.  Most scope creep occurs because no one is willing to say no.  Each of the other steps is meant to give you purpose and ammunition to say no, but you have to be willing to actually say it.
Consider Phase 2.  Some of the items you uncover are true opportunities and could be big improvements; but must they be done in this part of the project?  One way to address some forms of scope creep is through a Phase 2 of the project.  Get the original project done, get those results and then address and capitalize on the other ideas you identified.
A monster in a movie is far less scary when you know what it looks like and how it operates.  When you understand the causes of scope creep and what to do with it, it is much easier to address, and you can take the creepiness out of it.
photo credit: vinsflickr via photopin cc
Want to share what you've read? If you found this newsletter valuable, please feel free to republish it!
We believe in continual learning and sharing that knowledge with others. If you'd like to republish or pass along any of our articles, you can do so at no charge. All you have to do it keep the article exactly as written and formatted and include an attribution statement and link to the article. It's as easy as that!