By Robert I. Sutton and Huggy Rao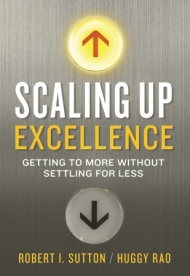 Sometimes books arrive at just the right time.
Perhaps that is why I feel so strongly about this book before I even finish.
You see this book is about growth and scaling your enterprise, project or team. Currently I'm doing all of these, so the message of this book is on point for me.
Aware of that fact, I wanted to write this in a way that isn't overly biased because of my perspective.
I'll make it simple – whether you think this book is immediately relevant for you or not, believe me, it is.
First, it is well researched. The authors are experienced and credentialed researchers, so they didn't just come up with some ideas and write the book; they studied reviewed, observed and tested these ideas over several years.
Second, it is well crafted. The authors are seasoned authors – Sutton has written two New York Times best-sellers – The No Asshole Rule and Good Boss, Bad Boss.
Third, it gives you pause to think and reflect. While I am only one-third through the book, it has already challenged my thinking and forced more of my highlighter ink onto its pages than anything else I have read this year.
The book is designed around the concepts in what they call the Scaling Mantras – these Mantras are introduced early and explained and examined through great stories and examples in the rest of the book. Here are those Mantras:
Spread a mindset, not just a footprint
Engage all senses
Link short term realities to long term dreams
Accelerate accountability
Fear the clusterfug
Scaling requires both addition and subtraction
Slow down to scale faster – and better – down the road
If you want to spread and multiply success in any human endeavor, this book will help you. As for me, in my current situation, it will become a source of inspiration and challenge, as well as a road map for the coming months.
It will be one of the best and most important business books of the year. I hope you enjoy it as much as I do.