By Liz Wiseman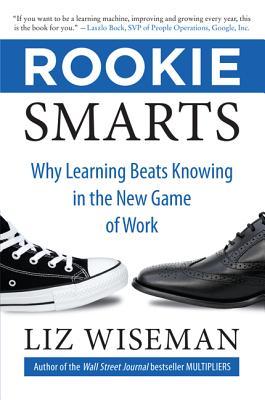 This new book arrived on my desk a few weeks ago, sent in hopes I would review it. Aware of the author, I was confident this would be a good book, and yet the stack of books on my desk was taller-than normal.
After looking at it for a few days, I had an idea.
Down the hall from my office sits our newest and youngest employee, Marisa Hendrickson. She is a rookie, loves to read, and has done a lot of writing in her past (though that isn't the focus of her role here). I decided to ask her to read the book, and if warranted, write a recommendation for it.
After she read it, I then read part of it – I am not through, but do plan to finish it – it is an excellent and important read. But rather than me giving you a full review/recommendation, here is Marisa's point of view…
…………………………………..
"Why are you often at your best when you are new to an undertaking, doing something for the first time?" Liz Wiseman asks this question at the beginning of her book Rookie Smarts: Why Learning Beats Knowing in the New Game of Work.
The author tells us how a rookie mindset can, at times, be more beneficial than an experienced or seasoned mindset. You may be thinking, "But the person with more experience will naturally do better than a rookie." And that's where this book may prove you wrong.
As explained by the author, experience can actually do more harm than good when it prevents us from seeing new ways of doing things, seeing the problems that exist in the current system, and seeking outside perspective. In order to keep up with a rapidly growing and changing world, leaders must adopt a learning, or rookie, mindset.
However, don't be fooled into thinking that this is just for rookies. Wiseman writes, "Rookie smarts aren't defined by age or experience; it is a state of mind."
In this two-part book, the author tells us not only what the rookie mindsets are (Backpacker, Hunter-gatherer, Firewalker, and Pioneer), but also how all leaders can cultivate their rookie smarts so we can become perpetual rookies, drawing on both veteran experiences and embracing their inner rookie.
I myself am a rookie, a recent college grad that started my web development career at The Kevin Eikenberry Group. Through all of my new experiences and opportunities over the last six months I've often asked myself, "Should I be learning this much?" and even, "Is it okay that I don't know how to do this yet?" Thanks to this book, I've learned that the answer to both questions is yes.
I enjoyed this book, and not just because I often wear sneakers like the ones on the cover. I would highly recommend that you add it to your reading list so you can learn why it's beneficial to be both a leader and a learner.
Not sure if this book is for you? Ask yourself these questions:
Do you miss the mindset you had as a rookie and wish you had that drive again? When you had nothing to lose and everything to gain?
Are you wondering what rookies are doing to be successful and want to know what you could do?
Do you lead rookies or learners?
Are you a rookie?
If you answered yes to any of these questions, do yourself a favor and read this book.
…………………………………..
From this recommendation I hope you see two things: we are blessed to have Marisa on our team, and this book is worth reading. Thanks to Marisa for her help here!