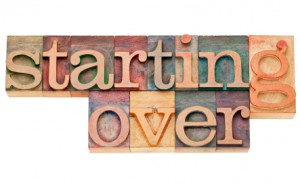 I starting writing 5-day-a-week emails called Powerquotes (here's the archive) nearly 15 years ago, featuring a quotation and questions to ponder.  Later I added Action Steps, calling the service Powerquotes Plus. Most recently, I moved the format to this blog, doing it once a week and adding my thoughts. All of this is preamble to the fact that I have been collecting and publishing quotations for a long time. Sometimes, in this space, I have something specific in mind.  Sometimes, I work from something I've recently read in a book.  And sometimes, I go to my collections, dip my toe in, and see what strikes me.
That's what lead to this week's selection.
I suppose that short story relates to starting over and fresh starts in itself . . .
"It is no disgrace to start all over.  It is usually an opportunity."
– George Matthew Adams, newspaper columnist
Questions to Ponder
When have I had to start over?
How often did it end up being an opportunity, even if it didn't feel like that at the start?
How would my results be different if I always thought about starting over as an opportunity?
Action Steps
Look at your current situation and decide where a fresh start might be helpful.
Let go of the past and make a new start, whether it is small or large.
Go into the change thinking and seeking opportunity.
My Thoughts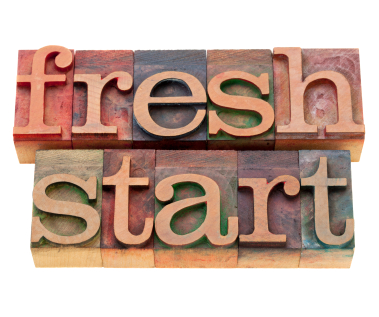 Words are powerful things.  When people talk or think about starting something, it is often a positive thing.  Yet when we have to start over, it often implies that there was a problem or a mistake, which requires us to start over.   When I went to istockphoto to buy the images for this post, I found hundreds under the keyword "start" and a few handfuls under the keyword "restart" – and most of those images were about having to restart a computer – clearly not a positive thing or something we look forward to.
Yet tell someone that you are making a fresh start, and you are back to more positive thoughts, aren't you?  When you say you are making a "fresh start" you are implying that you have learned something from the past and are looking forward with fresh eyes and an open mind.  When you think about starting over in this way, the truth of today's quotation shines through.
Consider all of your "restarts" as "fresh starts" – and you will find the opportunity that is waiting to be found.